MOUNT VERNON, N.Y. (June 19, 2018) – Rebecca Turner Elementary School's teachers, staff and families came out to support students with autism on Sunday, June 3, at the Westchester/Fairfield Autism Speaks Walk and raised $885 for the organization.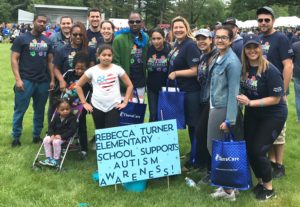 Raising funds to support students with autism spectrum disorders is important to Rebecca Turner because the school, in addition to educating students from preschool through fifth grade, is also home to an autism cohort of eight classrooms.
The cohort classes at the school are primarily for students with autism spectrum disorders, speech and language impairments, and/or other global developmental delays, who benefit from a small class size and student-to-teacher ratio. These classes use the principles of Applied Behavior Analysis to increase desirable learning behaviors and decrease those behaviors that are a barrier to progress and learning. A significant focus is on the students' language skills including: requesting, labeling, responding to language as a listener, and engaging in communication exchanges, whether it be via spoken language, sign language or other types of symbol representation (ie: pictures and printed words).
"Working with students with autism has been a lifelong passion for me," said Danielle Grandazzo, a special education teacher in the cohort and Rebecca Turner's Autism Speaks team leader. "We were there for the kids. It was for the children that we service. Walking for Autism Speaks and raising money for this worthy cause goes to show that this is what we love."
The money will go directly to Autism Speaks, which is dedicated to promoting solutions, across the spectrum and throughout the life span, for the needs of individuals with autism and their families through advocacy and support; increasing understanding and acceptance of people with autism spectrum disorder; and advancing research into causes and better interventions for autism spectrum disorder and related conditions
About Mount Vernon City School District
With more than 8,000 students in 16 schools, and students returning from private schools, the Mount Vernon City School District is committed to providing a quality education to its children as well as developing programs that meet the diverse academic and social needs of its students.