MOUNT VERNON, N.Y. (June 20, 2018) – One-hundred forty-seven graduating seniors accepted their diplomas from Mount Vernon City School District Superintendent Dr. Kenneth R. Hamilton at the Nellie A. Thornton High School commencement ceremony at SUNY Purchase's Performing Arts Center Monday.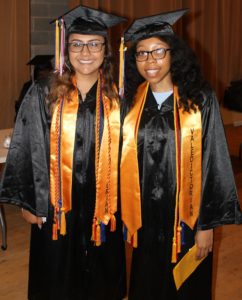 Of the graduates, 143 will be attending college in the fall, while four students will be enrolling in the military. More than $6 million in scholarships was awarded by colleges and organizations to the graduates.
Valedictorian Adrienne Brown and Salutatorian Jeanette Illescas addressed their classmates and attendees, reflecting on their four years at Thornton and looking forward to the future. Brown will attend Cornell University, while Illescas will attend Lehman College.
"You decide where your final destination will be…. You decide when you want to start and where you want to end," Illescas said to her classmates. "I made many great memories. From the first day of school when you wondered when it would all be over to now standing on this stage before you all. Our last final moment as high school students. It has been a year I will never forget."
Brown took the opportunity to ask her classmates to challenge themselves to look inward as a way to help change the world. "Maybe we should focus more on the content of our character and less on the ice cream flavor we compare our ethnicity to," Brown said. "Class of 2018 … Go forward and be the change you want to see in the world," she said later. "Make this time the best time of your life and create a society that no longer impresses the few but also risks everything."
"Some of the social issues we face today would have you believe that our world is regressing, politically, socially and even physically," Dr. Hamilton said. "But there is actually another frame of reference that I would like you to keep in mind. There is no better time to be where you are. Because as our valedictorian Adrienne Brown just said, you have a unique opportunity to change the world."
Dr. Hamilton presented three awards, two of which were the Mount Vernon City School District Superintendent's Academic Achievement Awards to Brown and Illescas. Tetrice Matthews received the Superintendent's Achievement Award.
Photo: Valedictorian Adrienne Brown (right) and Salutatorian Jeanette Illescas (left).
About Mount Vernon City School District
With more than 8,000 students in 16 schools, and students returning from private schools, the Mount Vernon City School District is committed to providing a quality education to its children as well as developing programs that meet the diverse academic and social needs of its students.