More schools will adopt student uniforms in September as policy receives overwhelming support.
MOUNT VERNON, N.Y. (June 11, 2018) — The Mount Vernon City School District is expanding its student uniform policy districtwide in September. This fall, the uniform policy will be implemented in the District's reconfigured PreK-7 and PreK-8 buildings, as well as the new AB Davis STEAM High School.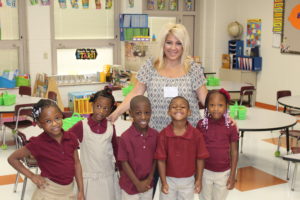 The school uniform mandate was initially adopted by the District's Board of Trustees in 2016. The policy allows schools in the district to mandate students wear uniforms if they present certification to the Board. Proper certification will include agreements from a minimum of 80 percent of families at the school.
Uniforms were worn in all of the District's elementary schools during the 2017-18 school year. Superintendent of Schools Dr. Kenneth R. Hamilton is pleased by the support this initiative has garnered.
"District Parents initiated this Uniform Policy adoption; and across the City of Mount Vernon, they are very supportive of this effort, citing the cost effectiveness of the program and improvement in the school culture and pride," wrote Dr. Hamilton in a letter to parents. "We look forward to building on this positive trend."
According to the adopted board policy, the intent is not to inhibit or prohibit any student who is not in uniform from receiving the education to which he or she is entitled. Therefore, no student will be subject to disciplinary actions for not complying with the policy.
Students will be given input on uniform selection and may receive uniform waivers for reasons of health or religious freedom. The district will offer assistance in purchasing uniforms to families facing financial hardship.
Picture: Students in Edward Williams School show off their uniforms in Ms. Cavallaro's classroom
About Mount Vernon City School District
With more than 8,000 students in 16 schools, the Mount Vernon City School District is committed to providing a quality education to its children as well as developing programs that meet the diverse academic and social needs of its students.