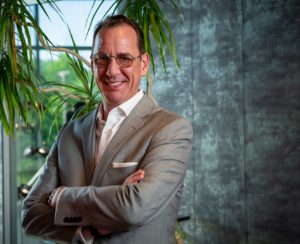 NEW WINDSOR, N.Y. (June 11, 2018) — Kevin Hayes of Mobile Life Support Services was recognized for his involvement with the Hudson Valley Cancer Resource Center. Hayes was among four 'Great Guys' selected by the Center and honored at its third annual event at the West Hills Country Club on Thursday, June 7, 2018.
Hayes serves as Director of Client Relations at Mobile Life Support Services, the largest emergency service provider in the Hudson Valley, second only to the New York State Police. Hayes has been with the company for 31 years and served in his current role since 2016.
"The Hudson Valley Cancer Resource Center is such an important asset to our community. I am humbled to be one of its 'Great Guys' and look forward to seeing its continued success," said Hayes. "Everyone in attendance is helping to improve the lives of those suffering; and that's really powerful."
Proceeds from the unique, men-only awareness event support the Center's patient navigation services, which has provided resources to more than 1,100 cancer patients and their families since its founding. This year's fundraiser will also be used for the Center's patient assistance grant program, which provides financial support to patients who are struggling as a result of their diagnosis.
"Kevin's dedication to helping the community goes far beyond the life-saving skills he has administered and the contributions he has made since joining our company," said Mobile Life President and CEO Scott Woebse. "He recognizes the importance of providing assistance to others in any way he can. We are proud to have Kevin as part of our Mobile Life family."
About Mobile Life Support Services, Inc.
Mobile Life Support Services, Inc. is a New York State Certified Advanced Life Support paramedic ambulance company that provides emergency services to communities and healthcare facilities throughout the Hudson Valley Region of New York State, including the counties of Orange, Rockland, Ulster, Dutchess and Westchester. Founded in 1981 by Rick and Gayle Metzger, Mobile Life is composed of more than 480 EMS professionals across the region and operates a fleet of more than 60 ambulances and 24 stations. With a collective population of more than 1,000,000 residents, Mobile Life handles approximately 100,000 calls per year. For more information, visit www.mobilelife.com.