The "Circle of Giving" campaign will use social media to spread the word.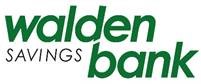 Montgomery, N.Y. (November 16, 2016) – Walden Savings Bank is launching a new campaign to feed the hungry this holiday season. The "Circle of Giving" campaign, to be launched on Thanksgiving, will encourage area residents to buy gift cards for loved ones from Walden Savings Bank. In turn, the Bank will donate $1 for each gift card sold to the Food Bank of the Hudson Valley.
"The idea is simple; when you give, we give," said Derrik R. Wynkoop, President and CEO of Walden Savings Bank. "When you purchase gift cards from your community bank, your money stays local. On top of that, we pledge to donate $1 to the Food Bank of the Hudson Valley for every Walden Savings Bank gift card sold. It's a win-win."
Customers will be encouraged to post a selfie to social media encouraging friends to join the "Circle of Giving" campaign. For each person that purchases a gift card and posts using the hashtag #WSBgives, the Bank will donate an additional dollar to the cause.
In 2015, Walden Savings Bank donated $2,300 and nearly 795 pounds of non-perishable food items to the Food Bank of the Hudson Valley. The Bank hopes to exceed that monetary donation with help from the community this holiday season.
About Food Bank of the Hudson Valley
Working in partnership with the food industry, the Food Bank collects large donations of unmarketable but still edible food, and distributes it to charitable agencies feeding hungry people in a six county region. Today, the Food Bank of the Hudson Valley, in conjunction with the Regional Food Bank of Northeastern New York, serves over 1,000 member agencies in 23 counties from the Canadian border to the Westchester border.
About Walden Savings Bank
Walden Savings Bank, established in 1872, is a federal chartered mutual savings bank headquartered in Montgomery, New York. With a total of 11 full-service branches serving Orange and Ulster Counties, the Bank's progressive style of community banking provides products that cater to both the individual and the growing mid-size business. In addition, Walden Investment Services, located at Walden Savings Bank, offers personalized advice for financial planning. To learn more about the Bank and its products and services, visit their website at www.waldensavingsbank.com.