MOUNT VERNON, N.Y. (December 6, 2017) – Nearly 100 men of color recently gathered for Dr. Kenneth R. Hamilton's Superintendent's Summit at Mount Vernon High School to learn about the District's My Brother's Keeper initiative.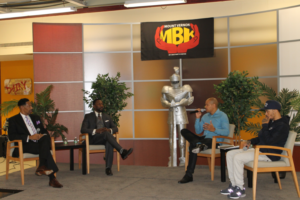 Fifty high school students and 50 adult mentors were invited to attend the event. In order to become a mentor, volunteers must meet certain criteria set forth by the District and its partnering organization. The criteria include: an ability to listen and lead with compassion, and a commitment to seeing the mentoring cycle to completion, which lasts from November through June 2018.
"Our goal is to match kids with mentors, which is one of the tenants of our 44th president, Barack Obama, and his effort to help increase graduation rates and reduce illiteracy rates for men of color," said Dr. Kenneth R. Hamilton, Superintendent of the Mount Vernon City School District.
The Summit included breakout sessions led by Shayne Brooks, Special Assistant to Mayor Richard Thomas and Community Liaison for the My Brother's Keeper initiative and Brother Arthur Muhammed, the liaison for the Mount Vernon City School District.
"Mount Vernon, although it's four square miles, there are pockets of division," said Muhammed. "There are pockets of disjointedness, but with mentoring, bringing people who don't know each other together and committing them actually makes the community small."
Brooks asked the group of 50 high school students if they have ever had a mentor in their life. After which, only a few young men raised their hands. From getting a full ride to a Division 1 school to creating a better environment for their families, students moved on to sharing their aspirations, in the safe space made available to them through the District's MBK Alliance.
Dr. Hamilton was joined by Love & Hip Hop star Peter ­Gunz, his son, rapper Cory Gunz, and Kwame Thompson for a panel discussion during dinner.
"I've asked a good friend of mine, Peter Gunz, to facilitate a conversation with our boys on gang-related activities," said Dr. Hamilton. "He has an initiative called Gunz Against Guns, which is something that's been an issue in our community. So, tonight is two-fold, we have the mentor-mentee connection and our efforts to have conversations with our young men and the perils of being involved with guns."
Each panelist shared their personal experience with violence and their path to understanding the importance of mentorship.
"A program where you have a mentor, to me, even if you just change one life, even if you can just touch one person, it's 100 percent worth," said Peter Gunz.
My Brother's Keeper, established by former President Obama, aims to ensure that the nation's boys and young men of color have equal opportunity to achieve academic and social success and prosperity. The mission of the Mount Vernon MBK Alliance is to make the American dream available to all boys and young men of color as a priority, and to all students of the Mount Vernon City School District overall.
"The program has a good purpose. I can see that people are finally starting to notice how much the community needs mentors," said Kamali Johnson, a high school senior and mentee in the program. "I feel assured that my younger siblings will have a structure to help them go down the right path. And maybe being here, and seeing me in this light, instead of in a negative one, will help inspire them to make the right choices in the future when they become adults themselves."
About the Mount Vernon City School District
With more than 8,000 students in 16 schools, the Mount Vernon City School District is committed to providing a quality education to its children as well as developing programs that meet the diverse academic and social needs of its students.