NEW ROCHELLE, N.Y. (May 8, 2018) – Andy Capellan, the coach of the New Rochelle High School girls cross country, indoor and outdoor track and field teams, will be inducted into the New York State Public High School Athletic Association's Hall of Fame this summer. Capellan and five other inductees – another coach, an administrator and three athletes – will be enshrined in the Hall at the association's annual summer meeting on July 25 in Lake Placid.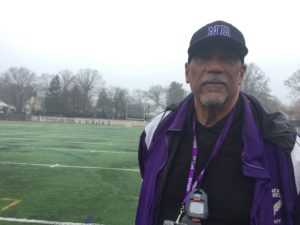 As word spread of the honor, Capellan, known as Coach Cap, was congratulated warmly by friends at NRHS, including Principal Reginald Richardson.
"There are literally generations of women who can attribute their success to Coach Cap," Richardson said.
Capellan said his approach is inclusive. He does not cut any athlete who makes the commitment, and he pushes them to be their best.
"I find a place for everybody," he said. "I make them do things they don't think they can."
His guidance applies off the track and field as well, encouraging students to excel in all aspects of life. It's an approach appreciated by his colleagues as well as by his students.
"He always pushes us to do our best in everything we do, not just sports," said NRHS junior Jhenne Joseph, who runs in the 400- and 800-meter events.
"Andy embodies the term 'teacher-coach'," NRHS Director of Athletics Steve Young wrote to NYSPHSAA in nominating Capellan. "He does not view his success just in terms of wins and losses, but rather on the success of his girls, both on and off the track.  He has been influential in many of the lives of his athletes.  He guides them on their academics, counsels them on the college application and recruiting process, and will communicate any problems or concerns with an athlete's parents or guardians."
In the 38 years he has coached at NRHS, the Girls Indoor Track Team "has collected 28 league titles, 24 Westchester County titles and 20 Section One Class A titles, including 17 'triple crowns', in which the team won the league, county and section championships in the same season," Young wrote to the association. "The success of the outdoor team is as impressive."
The outdoor team's achievements include 26 league titles, 24 Westchester County titles, 19 Section One Class A championships and 16 'triple crowns.' Capellan's outdoor teams have won consecutive league titles from 1996 through 2017 (there was no league champion in 2011), and county championships consecutively from 1997 through 2010, and again from 2013-2017.  In total, he has led these teams to a combined 54 league, 48 county and 39 Section One championships. He has also coached 43 individual state champions in 49 events as well as 9 relay teams.
His many accolades include being inducted into the New Rochelle Sports Hall of Fame in 2003 and the New Balance Track and Field Center Hall of Fame in 2016. He has multiple Coach of the Year awards and in 2009, received the Outstanding Leadership Award in Coaching by the Hispanic Institute.
He was also among several community members and NRHS alumni honored April 19 at the 20th annual gala of the New Rochelle Fund for Educational Excellence.
The 2018 NYSPHSAA Hall of Fame Class will be inducted on Wednesday, July 25 at 6 p.m. at High Peaks Resort in Lake Placid, N.Y.