Ellenjane Gonyea, Raymond Hafenecker, George Hafemann and Stephen Yates inducted into Burke Catholic Hall of Fame
Goshen, N.Y. (May 7, 2018) – Supporters, well-wishers and members of the Burke Catholic family gathered on Saturday for the John S. Burke Catholic High School Spring Gala and to celebrate four remarkable individuals who were inducted into its Hall of Fame.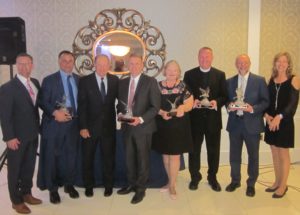 The Spring Gala is Burke Catholic's primary fundraiser to benefit capital projects in the high school. Money raised at the gala completed the BC on Track for 2018 capital campaign, which raised $200,000 to renovate the Burke Catholic track. This year, Burke Catholic is planning a campaign to raise money to upgrade the four science labs in the high school.
"It's heartening to see so many alumni, friends and members of the community here tonight to support Burke Catholic High School," John Douthit, Principal for Operations and Executive Director of the Burke Catholic Foundation, said at the sold-out gathering at Villa Venezia in Middletown. "I often say 'Once an Eagle, Always an Eagle' and your presence is a testament to that."
As part of the evening's celebration, Burke Catholic gave special recognition to the Class of 1968 and the 1988 NYS Girls Softball State Champions.
It also inducted the following into the Burke Catholic High School Hall of Fame: Ellenjane Gonyea, a former teacher and assistant principal at Burke Catholic; the Reverend George Hafemann, the pastor of St. John the Evangelist Church in Goshen; Raymond Hafenecker, co-owner of The Captain's Table in Monroe; and Stephen Yates, the department chair for Theology at Burke Catholic.
In addition to being a teacher and assistant principal at Burke Catholic, Gonyea was also department chair, classroom teacher, chair of two Middle States Association self-studies and the moderator for Stage Crew, Yearbook Club, Model United Nations, Youth in Government, Student Council and Mock Trial. After a 34-year career in teaching and educational administration, mainly at Burke Catholic, Gonyea retired as principal of Kingston's John A. Coleman Catholic High School in August 2001.
Hafenecker, a 1970 graduate of Burke Catholic, has long been a supporter of his alma mater through contributions to its capital campaigns and attendance at fundraising and alumni events. He actively supports The Knights of Columbus, Sons of The American Legion, Monroe Chamber of Commerce and the Mombasha Fire Company, and is past president of Rotary International. He has also employed innumerable Burke Catholic graduates at The Captain's Table over the last 45 years.
Hafemann, better known as Father George, is a member of the board of trustees at Burke Catholic High School. He serves as chaplain to several organizations, including Court Genevieve Walsh #918, Catholic Daughters of the Americas; St. John Council #1106, Knights of Columbus; and Dikeman Engine and Hose Company and the Goshen Volunteer Ambulance Corps. He serves on the boards of Catholic Charities Community Services of Orange and Sullivan and the Catholic School Region of Ulster, Sullivan and Orange Counties.
Yates has taught at Burke Catholic High School for 20 years. He began with teaching Chastity, Morality and States in Life to seniors in 1998, and took over as department chair for Theology in 2005. The following year, he took on the additional responsibility of coordinator of religious activities. Along with his various duties, his passion is working with his students and the Pro-Life Club.
"All four inductees into the Burke Catholic Hall of Fame personify the school's motto, 'Not Words but Deeds' and are individuals who our students can look up to and be inspired by," said Janice Clark, Principal for Academics. "All four are examples of the Christian values and civic responsibility that Burke Catholic instills in all of its students."
To learn more about John S. Burke Catholic High School, visit www.BurkeCatholic.com.