MOUNT VERNON, N.Y. (May 9, 2018) — Students in Mount Vernon, Thornton and Mandela High Schools and select students from the Performing and Visual Arts Magnet School captivated audiences with four performances of The Color Purple at Mount Vernon High School this past weekend. The cast delivered a powerful performance that brought the audience to tears and ultimately to their feet.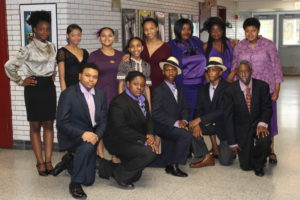 In the lead roles were: Ajanee' Thomas, as Celie; Calilah Hines as Nettie; Mariam Saidykhan as young Celie; and Jasmine Fuller as Young Nettie.
"The Color Purple has always been a part of my life because my mother loves the movie," said Hines. "To have the role of Nettie and embrace such an independent woman was amazing. I'm just glad to be a part of something so wonderful!"
The musical was produced and directed by Evelyn Collins; with musical direction by Alvin Waddles; set design by Janet Rush; lighting design by Antoinette Tynes; choreography by Samuel Reid; vocal direction by Terri Cann, and costumes designed by Gladys James.
"Our cast and crew rehearsed six days a week for five weeks to create a memorable theatrical and musical experience for the community, and our talented students delivered just that," said Collins. "Coming after our unexpected encore performances of The Lion King, Jr. did not allow for a traditional three month rehearsal period.  Our students worked like professionals for 3 to 4 hours each day. The short rehearsal period was unusual for students and aligned with standards of professionals."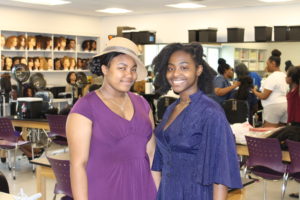 "I prepared and made sure I knew all the scenes before I even auditioned," said Tamar Jones who was in the role of a church lady.
Anaya Dalton, who also played a church lady added, "I liked trying to get to know my role and making it my own. The process is fascinating!"
"Church Ladies" picture features (from left to right) Anaya Dalton and Tamar Joseph.
About Mount Vernon City School District
With more than 8,000 students in 16 schools, the Mount Vernon City School District is committed to providing a quality education to its children as well as developing programs that meet the diverse academic and social needs of its students.