POUGHKEEPSIE, N.Y. (April 27, 2018) — Joe and Maria Lepore, owners of LCS Facility Group, the region's most experienced and largest provider of facilities solutions, were selected as the recipients of Family Service's Good Neighbor Award. The couple was honored at an awards dinner on April 26, 2018 at The Grandview in Poughkeepsie.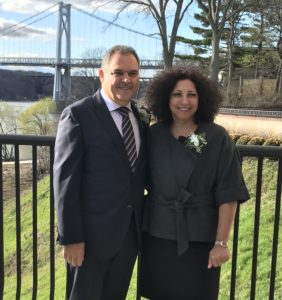 Joe and Maria were selected by Family Services for the Good Neighbor Award in recognition of their outstanding community service. The annual award recognizes a recipient who embodies the ideals of Family Services, which seek to provide hope, improve lives and strengthen the community.
The Lepore family has long supported local organizations, such as the Arc of Dutchess, the United Way, the Dave Clark Foundation, the Italian Welfare League and the Dutchess Region of the Catholic Schools in the Archdiocese of New York. In addition to sponsorships, Joe and Maria have generously donated to many charitable causes. More recently, the Lepores started a scholarship program that provides more than $20,000 per year to deserving college students.
"We owe our success to the support of our local community and as we continue to grow, giving back becomes even more important," said Joe Lepore.
About LCS
As the preferred outsourcing partner, LCS Facility Group is an industry leader in providing the highest quality expertise, professional and full-service facilities maintenance, and specialty services to the commercial sector. LCS Facility Group's services include cleaning and facility maintenance; landscaping and property maintenance; snow and ice removal; hospitality and stewarding services; construction support services; specialty services and more. For additional information, visit: http://www.lcsfacilitygroup.com