Mount Vernon City School District and Black Network of New York offer students a unique educational opportunity at IBM campus
MOUNT VERNON, N.Y. (April 23, 2018) – Thirty high school juniors and seniors from the Mount Vernon City School District recently visited the Thomas J. Watson Research Center at IBM in Yorktown Heights, N.Y. for a technology tour.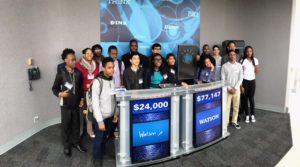 Students from both Nellie Thornton and MVHS spent an entire day at the Thomas J. Watson Research Center. The program was organized by Rachel Leekin, a cloud solutions engineer at IBM, and Jackie Washington, a senior program manager, and sponsored by the IBM Black Network of New York (BNNY).  BNNY is a resource group within IBM that brings together black professionals within the company to network, mentor and support each other as a community. The BNNY furthers IBM's business strategy by aligning, connecting, supporting and celebrating IBM internally and externally.
"I feel like a proud father. I'm in awe of the students' curiosity and inquisitive nature, diving deep into the technology and asking thought-provoking questions," said Dr. Kenneth R. Hamilton, Mount Vernon City School District Superintendent of Schools. "The District's partnership with BNNY has proven to be an incredible opportunity to inspire our students."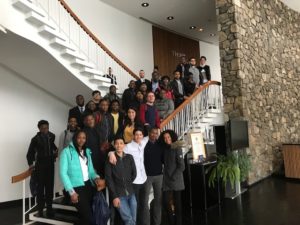 Ellen Gullo, a program executive, led the day's activities. She shared the history of IBM with the students and explained the spark that assisted in creating Watson, the artificial intelligence that won on Jeopardy in 2011.
The students participated in a variety of activities throughout the day. They played Jeopardy with Gullo, participated in the Augmented Creativity and the Master's Golf demonstrations, enjoyed a tour of the Quantum computing lab, and attended a panel discussion with IBM professionals. The panel discussion was uniquely organized and three of the seven panelists were Mount Vernon City School District alumni.
"The students were amazing! They participated and asked questions that the adults in the room had not even thought of asking," said Natasha Freeman-Mack, district instructional coach for the Mount Vernon City School District. "Ellen Gullo told our young minds, 'You are our future and your ideas matter!' Those words were beyond inspiring."
Students were invited to reach out to the panelists for mentorship and networking opportunities. Leekin and Washington also provided students with some IBM swag, including an IBM bag, earbuds, and a pen as a thank you for visiting the campus.
The Mount Vernon City School District has already been invited back to the Watson Research Center in the fall of 2018 with a new set of juniors and seniors.
About the Mount Vernon City School District
With more than 8,000 students in 16 schools, the Mount Vernon City School District is committed to providing a quality education to its children as well as developing programs that meet the diverse academic and social needs of its students.