Join more than 150 teens from across New York for anti-smoking event
GOSHEN, N.Y. (July 26, 2018) – Six students from John S. Burke Catholic High School traveled to the campus of Cazenovia College in central New York this July to represent Orange County at the Reality Check summit, an educational event focused on helping youth hone their public speaking and leadership skills, and to make plans to fight against the tobacco industry's influence in their communities. The students were among more than 150 representatives from across the state who joined in one voice to say they had #SeenEnoughTobacco, and rally against what they see as deceitful marketing directed at children by the tobacco industry.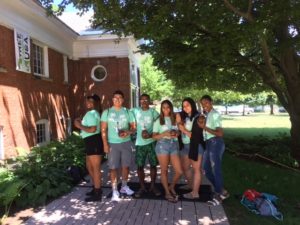 They attended workshops, carried out tobacco-free-themed activities and participated in a march along Albany Street from the campus. The three-day event also featured national youth speakers.
"I think tobacco companies try to deceive kids with their packaging that looks a lot like candy and juice boxes and with products flavored like grape and bubble gum," said Brandon Ascenscio. "Stores located near schools have nearly three times the amount of tobacco promotions. We're speaking out in communities all across the state to protect youth from tobacco marketing."
The students staged a public exhibit to grab the attention of community members using the same tactics that the tobacco industry is using to attract and influence youths. They set up large visuals at Lakeland Park, on the shore of Lake Cazenovia, to drive home key statistics about youth smoking, including cut-outs of a birthday cake with cigarettes for candles, a crayon box with cigarettes instead of crayons, a claw machine filled with packs of cigarettes, an ice cream truck promoting tobacco product sales and cigarette packs on the blades of a working 8-foot tall mini-golf windmill.
Youth speakers at the event cited 13 as the average age of a new smoker in the state, calling attention to the problem of youth-targeted tobacco marketing in stores.
"The average age of a new smoker in New York State is just 13, and it seems like tobacco companies would do anything to grab kids' attention," said Xzy-Naye Campbell. "They use colorful signs, walls of tobacco products, special discounts and displays and put most of their marketing in stores where 75 percent of teens shop at least once a week. And the more kids see tobacco products, the more likely they are to start smoking. We're here to say we've seen enough tobacco."
Reality Check Program Manager Makeda James added, "A number of New York communities have taken action to protect youth from tobacco marketing, including right here in Central New York, but we've got more work to do to protect future generations from the death and disease of tobacco use; Reality Check youth have the power to do it."
About POW'R Against Tobacco & Reality Check
Since 1992, POW'R has promoted and educated the public about tobacco-free communities and the harmful effects of tobacco use in Putnam, Orange, Westchester, and Rockland counties. The American Lung Association of New York State, Inc. is a founding member and fiscal agent for POW'R Against Tobacco. POW'R Against Tobacco is excited to present leaders of a tobacco free generation, the Hudson Valley Reality Check. For more information about Reality Check, please visit us at www.realitycheckofny.com
About #SeenEnoughTobacco
This online campaign is aimed at safeguarding children from the billion dollar strategy of hard-hitting tobacco promotions placed in locations where children see them. Parents, community leaders and others interested in protecting against this practice are encouraged to learn more at www.SeenEnoughTobacco.org.
To learn more about John S. Burke Catholic High School, visit www.BurkeCatholic.com.