$200,000 was successfully raised to bring the project to fruition.
GOSHEN, N.Y. (June 18, 2018) – The painting of the lane lines last week marked the final touch on the completion of the Burke Catholic On Track for 2018 Campaign to benefit its students and the BC community. The ambitious campaign to repair and upgrade the track was launched in 2017 and thanks to the generosity of donors, the Burke Catholic Board of Trustees, BC Foundation, BC Parent Club, and BC Alumni Association who contributed a total of $200,000 to the project, the dream of a new track at the high school has come to fruition.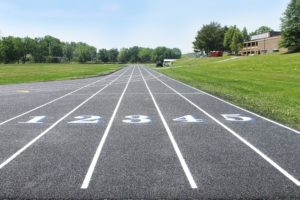 "We couldn't be more thankful to the members of the BC community who rallied behind this project," said John Douthit, Principal for Operations. "The students have anxiously awaited the completion of this project and it's an amazing feeling to have reached the finish line!"
"As a Burke Catholic student athlete who trains and competes on the Burke Catholic Track team, I am very excited to see and use our new track," added Burke Catholic Rising Junior Annie Dwyer. "It will be great for us to compete in front of our friends and families at BC!"
The upgraded track features new, technologically advanced, low maintenance material and includes repair of the pole vault runway and high jump area.
"Now that this project is complete, we can once again host home track meets," said Burke Catholic's Athletic Director Adam Kless. "Additionally, all of our students will benefit and are excited to have a track they can be proud of!"
The school and Burke Catholic Parent Club put its fundraising muscle behind the track improvement, holding a "Sign and Drive" event, a golf outing and an art auction to raise money. All donations to the BC Foundation over the past two years went to the track project.
"The track renovation is part of a larger strategic plan to revitalize Burke Catholic High School," Douthit added. "We are committed to constantly upgrading our campus to better serve our students' needs and will now turn our focus to creating new 21st century innovative science and technology learning spaces."
Burke Catholic will specially recognize Maneesh Arora '86 for his donation of $20,000 and Deanie '72 and General Martin Dempsey '70, The Carpentieri Family (Ann'74, Michael '01, Anthony '02, Joseph '04), James O'Mara '98, Faith Ferguson '82 and Ron Boire for their donations of $10,000 respectively by naming the track lanes in their honor.
An official ribbon cutting for the new track will be held at Burke Catholic in September to mark the start of the school year and a commitment to continual improvement.
For learn more about John S. Burke Catholic High School, visit www.BurkeCatholic.com.