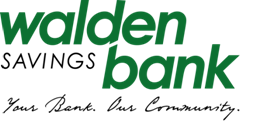 Walden Savings Bank continues its support of local nonprofit organizations with this year's Ornament Campaign donation of $3,750 to Food Bank of the Hudson Valley.
Each year, Walden Savings Bank employees and customers participate in the Food Bank's annual Ornament Campaign, where paper ornaments are purchased at each of Walden Savings Bank's 11 branch locations for $1 from Thanksgiving until the New Year. Walden Savings Bank matches each donation, which helps to provide thousands of meals to local families.
In addition, Walden Savings Bank raised funds for the Food Bank of the Hudson Valley by hosting an Ugly Sweater Contest, asking each of its participating staff members to donate to the Food Bank.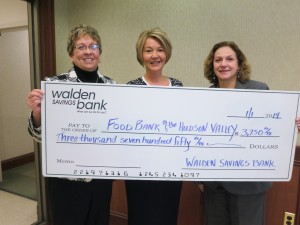 "Food Bank of the Hudson Valley is instrumental in assisting the families in our community that need our help the most," said Derrik R. Wynkoop, President and CEO of Walden Savings Bank. "The Holiday season is an important time to give back to the community, and we are happy to be able to continue to help this important cause in any way we can."
The Food Bank of the Hudson Valley is dedicated to alleviating hunger while preventing the waste of wholesome food. Working in partnership with the food industry, the Food Bank collects large donations of unmarketable but still edible food and distributes it to charitable agencies feeding hungry people in a six county region. In 2008, the Food Bank provided more than 8 million pounds of food to over 360 member agencies in Orange, Ulster, Dutchess, Rockland, Sullivan, and Putnam counties.
About Walden Savings Bank
Walden Savings Bank, established in 1872, is a federal chartered mutual savings bank headquartered in Montgomery, New York. With a total of 11 full-service branches serving Orange and Ulster Counties, the bank's progressive style of community banking provides products that cater to both the individual and the growing mid-size business. In addition, Walden Investment Services, located at Walden Savings Bank, offers personalized advice for financial planning. To learn more about the Bank and its products and services, visit their website at www.waldensavingsbank.com.