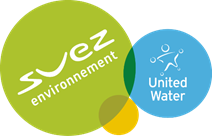 WEST NYACK, NY September 8, 2015 — United Water announced that Jeff VanWagenen, manager of United Water Owego-Nichols, has been named a recipient of the company's Care to Share Award in recognition of his volunteer work. The $1,500 grant will be shared between the Owego Junior Football League and the Owego Little League Association, both groups with whom VanWagenen has been associated with for the past three years.
The Care to Share Award is judged by an independent panel. An award winner is chosen based on the volunteer's impact on the organization served, the level of commitment shown, the level of innovation brought to the organization, the volunteer's level of responsibility or leadership within the organization and the amount of time invested in helping the organization meet its mission and achieve its goals.
"Our company has long emphasized that a key aspect of being a supportive member of the communities we serve is giving back to those communities through volunteering and service," said Chris Graziano, general manager of the United Water New York Division. "Jeff VanWagenen embodies the spirit of volunteerism in his service with the Owego Junior Football League and the Owego Little League Association, and all of us at United Water are pleased to honor him for his work with the young people of the community."
VanWagenen, who has worked at United Water for 10 years, serves as an assistant coach in both leagues. In addition, he assists with field preparation, cleanup and concessions, as well as other roles. He volunteers upwards of 10 hours per week.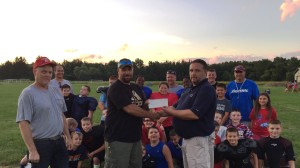 "I'm deeply honored to receive United Water's Care to Share Award," said VanWagenen. "Working with the kids of this community is truly rewarding, and I really value the opportunity to make a positive difference in their lives. I'm also honored to be associated with these organizations that allow kids who want the opportunity to play sports to have that ability. It helps them build friendships, work together, stay healthy and set their sights on goals that are bigger than themselves."
VanWagenen says that the Owego Junior Football League and the Owego Little League Association plan to use their shares of the award to purchase new uniforms and equipment.
About UNITED WATER
United Water is one of the nation's leading environmental companies, providing water and wastewater services to approximately 6.7 million people in the United States. In addition to owning and operating 15 water and wastewater utilities, United Water operates 84 municipal and industrial water and wastewater systems through innovative public-private partnerships and contract agreements. Founded in 1869, United Water is a subsidiary of SUEZ Environment.
United Water Owego Nichols provides water service to about 4,500 people in the Villages of Owego and Nichols.
Press Contact:
Bill Madden 845-620-3353
Deb Rizzi 845-620-6216