Shows are March 11, 12 and 13 at the high school
 TUXEDO, N.Y. (Feb. 23, 2016) —- Tickets are on sale for the George F. Baker High School Drama Club's spring musical, "The Wizard of Oz," to be held March 11, 12 and 13 at the high school.
The three shows are based on the 1939 movie by the same name and the 1900 novel, "The Wonderful Wizard of Oz" by L. Frank Baum.
The musical focuses on Dorothy Gale, who lives with her aunt and uncle on a Kansas farm, but finds her family and farmhands are too busy to pay attention to her. After her dog is taken away from her, she decides to run away from home.
She meets some interesting characters along the way, after being tricked into believing her aunt is sick, Dorothy races home just as a powerful tornado develops.  But she can't get into her family's storm cellar and seeks shelter in her bedroom, only to become unconscious after being hit on the head.
In a dream, Dorothy meets other characters who travel with her to the Emerald City.  And after more adventures and challenges, Dorothy eventually learns "there's no place like home."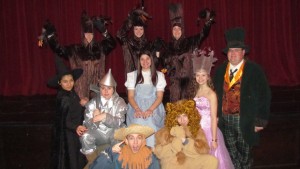 Under the direction of Carol Marash and Peter Head, the play's cast includes Daria Fatemi as Dorothy; Heidi Willins as Glenda the Good Witch; Rosalie Rodriquez as the Wicked Witch; Rachel Levinsky as the Tin Man; Matthew Willins as the Scarecrow; John Castricone as the Cowardly Lion; and Assistant Principal Eric Sorenson as the Wizard of Oz.
The total supporting cast is comprised of approximately 50 students, including 32 younger George Grant Mason students who will appear at Munchkins, and a stage crew of seven high school students.
Show times are at 7 p.m. on March 11 and 12; and 2 p.m. on March 13. Tickets are $13.50 and can be purchased in advance at https://tuxedo.booktix.com/ or at the door. If patrons would like assistance with printing their tickets purchased online or want to purchase online at the school, please come to the high school or call 845-351-2101.
About the Tuxedo Union Free School District
The Tuxedo Union Free School District is a K-12 school district located at the southernmost tip of Orange County, near Sterling Forest and Harriman State Park. The George Grant Mason School is the district's K-6 school and was named a 2015-2016 New York State Reward School, which recognizes schools that have made the most progress or have the highest achievement statewide with no significant gaps in student achievement. George F. Baker High School is home to students in grades 7 to 12. The district's mission is to engage students in the pursuit of knowledge for academic success, productive citizenship and the development of personal potential in a diverse and changing world, while offering opportunities for real life experience in a safe and secure learning environment meeting every student's individual needs. For more information, visit: http://tuxedoufsd.org.