MOUNT VERNON, N.Y. (June 3, 2016) – The Mount Vernon City School District gave away more than 100 donated new bicycles to students at the Superintendent's Second Annual Reading Challenge Carnival on the football field at Mount Vernon High School Thursday.
The carnival was held for the 1,836 students who reached their reading goals this school year. At the beginning of the school year, Superintendent Dr. Kenneth R. Hamilton challenged students to reach his goal of reading 300,000 books collectively during the school year. Kindergarten-8th-grade students were challenged to read 30 books during the year. Dr. Hamilton invited students who achieved this goal to the end-of-year carnival.
"I am so proud of each and every one of these 1,836 students who succeeded at the Superintendent's Reading Challenge as well as others who participated but may have fallen a little short," Dr. Hamilton said. "I encourage everyone to join me next year."
"Reading is the most substantial thing you can do to improve your ability to learn," Dr. Gayle White-Wallace, Standards Administrator for Pre-K, ELA, Literacy and Social Studies (Elementary). "And, you can do it on your own at your own pace. It's a wonderful opportunity to grow."
Josephine Padilla was the top kindergarten reader in the district. The Traphagen School student read 385 books. With each book, her teacher – Mary Claye – asked her to write a short book summary and draw a picture about her favorite part of each book.
She also won a sky blue bike. "It has my favorite color," she said, explaining why she chose it. Her father, José, will need to put on training wheels.
Her mother, Kenia Padilla, said Josephine hadn't been expecting a reward for reading. "If you love reading you don't need anything else because you can figure everything else out. Reading is the key to success," said Padilla, who has two other girls, Joy, pre-kindergarten, and Jayleen, fifth grade.
The event was attended by students, parents, School Board Trustees; Mount Vernon Mayor Richard Thomas and school district administrators.
Students enjoyed bounce houses, inflatable slides and obstacle courses, and games. A disc jockey, face painters, a stilt walker and a juggler kept the crowd entertained, along with OLI the Octopus – the school's literacy mascot – and Clifford the Big Red Dog.
Students who read at least 30 books received a medal, certificate and the invitation to the carnival. Students who read more than 20 books received a certificate of participation. Two readers from each school will join Dr. Hamilton for a fun afternoon outing at Dave & Buster's.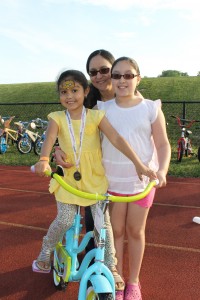 Left to right, Josephine, Kenia and Jayleen Padilla with Josephine's new bicycle.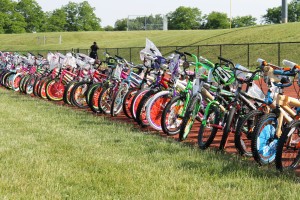 A row of 100 bicycles await lucky students.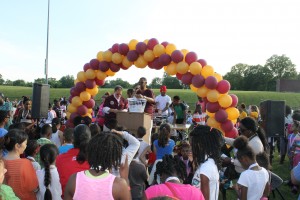 Superintendent Dr. Hamilton selects a winner during the bike raffle, where more than 100 new bicycles were given away to students who met their reading challenge goals this year.
About Mount Vernon City School District
With more than 8,000 students in 16 schools, and students returning from private schools, the Mount Vernon City School District is committed to providing a quality education to its children as well as developing programs that meet the diverse academic and social needs of its students.