Scare Parks and Haunted Farms Provide Eerie Entertainment for Hudson Valley Thrill Seekers.
ORANGE COUNTY, N.Y. (October 26, 2017) – Memorable visits and sleepless nights are in store for thrill seekers attending one of the many scare parks and haunted farms in Orange County, N.Y. From hayrides to moonlit walks through the woods, the Hudson Valley is home to the most terrifying Halloween attractions in the country, attracting thousands of people each year from Philadelphia to Boston.
"Ghosts, ghouls, and goblins are hauntingly familiar with all who visit our fright houses," said Orange County Tourism Director Susan Hawvermale. "Come meet them, if you dare!"
Top scare houses and haunted farms include:
TerrorDome 84 Lakeside Road in Newburgh: features a walk through haunted woods full of chainsaw wielding madmen, clown alley, barn of terror, dolly manor where dolls come to life, and the dungeon. Open Fridays, Saturdays, and Sundays through October 29. www.terrordome.com
Forest of Fear in Sterling Forest, 600 Route 17A in Tuxedo: The Forest of Fear has grown and set new standards for interactive haunt attractions. With professional live performers and award-winning special effects, The Forest of Fear promises creativity and spine-chilling terror! The Forest of Fear has been named the third best "Haunted House in America" by Haunted Attractions magazine" and "one of the scariest places in America" by The Discovery Channel. The Forest of Fear is open through October 29 on Fridays, Saturdays, and Sundays. www.renfair.com/forestoffear
Pure Terror Scream Park at Museum Village, 299 Museum Village Road in Monroe: holds the Guinness World Record for the longest haunted attraction in the world. Features the crypt, the coven, terror under the big top, and legends of horror. Pure Terror boasts itself as one of the world's largest and scariest haunted houses, featuring "movie quality sets" and "Hollywood custom-created and designed costuming." Open Fridays, Saturdays, Sundays (and Thursday, October 26) through November 4, Pure Terror offers thrill seekers access to six haunted attractions. www.pureterror.com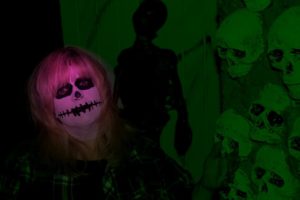 Fright Nights at Pierson's Farm Route 211 West in Middletown: at Pierson's, visitors will navigate through a small corn maze, into a barn and then through a graveyard and larger corn maze for petrifying fun. Families can settle down from a night of fright with Pierson Farm's petting zoo. Fright Nights at Pierson's Farm occur Fridays and Saturdays through October 28. www.piersonsfarm.com
The Corn Estate Haunted House 55 Duncan Avenue in Cornwall on Hudson: Legend has it that ghosts of infamous thief and smuggler, Thaddeus Corn, and his family return to the Corn Estate every Halloween, terrorizing passersby. Visitors are invited to enter the Corn's home to experience the frightening legend firsthand. The haunted attraction helped Cornwall, N.Y. be named the number one place in the country for trick-or-treating by The Daily Meal thanks to its "walkability" and family-friendly atmosphere. Tours are available Saturday, October 28 and Tuesday, October 31 and admission is free for anyone who dares to enter the estate. www.cornestate.com
About Orange County Tourism
Orange County Tourism, based in Goshen, N.Y., is the county's tourism headquarters and a participant in the I LOVE NY program. A comprehensive listing of area attractions, lodging, and events can be found at www.OrangeTourism.org. For a free copy of the Orange County Travel Guide, e-mail tourism@orangecountygov.com or call 845-615-3860.