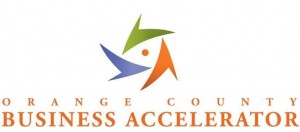 NEW WINDSOR, N.Y. (June 5, 2014) — The Orange County Business Accelerator, an organization that provides resources and guidance to help small businesses and startups in the region, celebrated its 5th anniversary yesterday with a reception and open house.
The program included remarks from Orange County Executive Steve Neuhaus and former County Executive Edward Diana, who both cited the Accelerator as one of the county's most important economic development programs. Diana received a certificate of appreciation for his role in launching the Accelerator in 2009 as county executive.
"The Accelerator has established itself as a genuine job creator which was its original mission," said Larry Gottlieb, the President of the Hudson Valley Economic Development Corporation, which manages the Accelerator.  "The success of the Accelerator's first five years provides a strong foundation to build on in the future."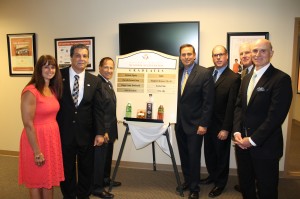 In addition, a plaque was unveiled at the reception that showcased the names of eight companies that have "graduated" from the Accelerator by expanding to open office space at a larger location.  Notable graduate companies include Continental Organics, an agricultural company in New Windsor, and Sabila Aloe Drink, a natural soft drink company that has plans to turn a former manufacturing facility in Middletown into a micro-brewery and restaurant.
In its five years, the Accelerator has served 43 companies that have directly created 125 new jobs.
"The Accelerator would not be the success it is today without the support of the IDA, the Orange County Partnership, the Orange County Chamber of Commerce and of local government," said James R. Petro, Jr., Executive Director of the Orange County Industrial Development Agency. "The Accelerator has become a model for other counties to replicate and we are committed to fostering the growth of young companies to create new jobs for Orange County."
About the Orange County Business Accelerator:
OCBA is a business incubator program launched by the Orange County Industrial Development Agency. The incubator, 10,000 square feet of Class A high-tech research and development space, is designed to attract new entrepreneurial investment by providing businesses with below-market occupancy costs, mentoring programs and a high-tech plug-and-play office environment. OCBA recently received official certification as a New York State Incubator as well as a sizable grant from New York's Empire State Development to support additional resources and services for clients. For more information, visit http://ocaccelerator.com.