NEW ROCHELLE, N.Y. (August 9, 2017) – Amy Goodman, the Superintendent of the Greenburgh-Graham Union Free School District and an administrator with vast experience in special education and student services, was named interim Assistant Superintendent for Student Support Services for the City School District of New Rochelle on Tuesday evening.
Goodman was one of several key appointments made this month by the New Rochelle Board of Education. In accepting the a one-year term, she fills the responsibilities previously held by Diane Massimo, who retired this summer as Associate Superintendent of Schools after serving the District for 28 years.
"Amy has more than 20 years of district-level special education leadership experience," said New Rochelle schools Superintendent Dr. Brian Osborne. "She is highly qualified to build on the successes that have been established in the New Rochelle schools, while helping to recruit a top-notch educational administrator to take the position on a permanent basis."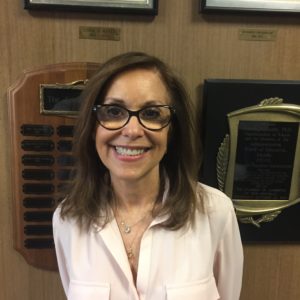 In other administrative changes: New Rochelle High School House IV Principal Michael Hilderbrand will become Assistant Principal of Trinity Elementary School; Ardsley Union Free School District Treasurer Heidi Hohlfeld will come to the New Rochelle schools in the same position; and Dante Santora, who served as interim Director of Technology until earlier this year, has been named Assistant Director for Network Operations and Support.
Goodman is retiring from the Greenburgh-Graham district, which she has run for the past nine years. In her new role, she will serve as one of the top educators in the District of almost 11,000 students, overseeing the departments of special education, medical services, guidance and pupil services.
Before joining Greenburgh-Graham, she served as Assistant Superintendent in the Eastchester Union Free School District for nine years. She previously served as Director of Pupil Personnel Services/Curriculum in the Lakeland Central School District and Director of Special Education for the Mount Vernon City School District.
"I'm very excited to have been chosen to serve the New Rochelle school district," Goodman said. "I have always strived to work in an environment that is highly engaging and very diverse. I know that New Rochelle's practices are already responsive to the unique strengths and needs of every student and I want to continue along that path."
Goodman earned a Master of Science in Special Education from Hunter College and graduated Syracuse University Summa cum Laude with a Bachelor of Arts, also in Special Education. She received certificates in administration and supervision from the College of New Rochelle and leadership from Cornell University.
Her arrival in New Rochelle coincides with the retirement of Yvette Goorevitch, who served 26 years as the Director of Special and Alternative Education.
"Yvette's career in New Rochelle exemplified belief in and devotion to our most vulnerable students." Dr. Osborne said. "She has been their fierce advocate and partner to their families. Her belief in the least restrictive environment has not been about mere compliance with the law, it has been about a mission of doing what's best for all kids."
Hilderbrand at Trinity
At Trinity Elementary, Hilderbrand replaces Inas Morsi-Hogans as Assistant Principal. Morsi-Hogans left in July to become Principal of the Mount Kisco Elementary School in the Bedford school district. For eight years, Hilderbrand served as House IV Principal at New Rochelle High School. In that role, he coordinated House management and administration for 900 students.
"I began my career here in New Rochelle because of the District's dedication to supporting a diverse community of learners," Hilderbrand said. "That dedication continues to keep me here. As I move to Trinity Elementary, I am excited support students as they begin their journey as lifelong learners."
He began as a Spanish teacher and advisor at the school from 2002 to 2009, teaching, mentoring students and organizing school spirit and culture events and language trips to other countries. During that time, he was a founding advisor of the high school's No Place for Hate Club. The school has been named a No Place for Hate School by the Anti-Defamation League.
"I am delighted to welcome Michael to Trinity School," said Trinity Principal Anthony DiCarlo.  "Together, we will continue to build the strength and effectiveness of our school community for the benefit of every Trinity School student."
"Michael shows a strong focus on instruction and a deep and sincere dedication to the Trinity School community," said Assistant Superintendent and Chief Academic Officer Dr. Magda Parvey. "I'm very excited about his appointment to the new position."
Hilderbrand received a Master of Science degree in Educational Leadership and Administration from the College of Saint Rose in Albany, a Master of Arts in Education/Spanish from Sacred Heart University of Fairfield, Connecticut, and a Bachelor of Arts in anthropology and sociology from Western Connecticut State University in Danbury, Connecticut.
Hohlfeld as Treasurer
Hohlfeld comes to New Rochelle after serving four years as treasurer of the Ardsley schools. A certified public accountant, she began working in school districts after spending more than a decade with the accounting firm of Vargas & Rivera in New City, N.Y. She served as an accountant with the Hyde Park Central School District from December 2011 to September 2013, when she joined the Ardsley district.
"I'm very enthusiastic about the opportunity to join the team working for the New Rochelle school district," Hohlfeld said. "During my interview, I was impressed by how the members of the Board posed relevant, thoughtful questions and made me feel welcome and comfortable.  I was very heartened that they care so much about every level of the district."
Before Vargas & Rivera, Hohlfeld gained professional experience at the food brokerage company RFI Ingredients, the International Swaps and Derivatives Association and Catholic Relief Services.
She obtained her CPA license in 2006 after completing the requirements at Ramapo College in Mahwah, New Jersey. She previously earned a Bachelor of Arts degree in history, graduating cum laude from Siena College in Loudonville, New York.
"Heidi brings extensive experience in the field," said Assistant Superintendent for Business and Administration Jeff White. "She comes with stellar recommendations from everyone she has worked for. She is also a CPA, which is an important qualification, and she has demonstrated tremendous professionalism."
Santora as Assistant Director
Santora, a lifelong New Rochelle resident, served as interim Director of Technology from April, 2016 until the hiring of Michael Tromblee in February. A Managed IT Leader with Southern Westchester BOCES, Santora remained in New Rochelle as a full-time, on-site consultant until his hiring in the current position.
Santora will spearhead activities related to user support, network operations and maintenance, and project management.
"It is truly a privilege to serve as a member the New Rochelle team, I look forward to supporting every individual and providing the highest level of customer service in support of the of the District's instructional vision," Santora said. "Technology is not the 'star of the show' – students and teachers are. But when applied effectively technology serves as a catalyst in delivering on the District's promise to provide quality education for all of our students."
At BOCES, Santora served districts including White Plains and Port Chester as well as New Rochelle, from 2014 until now. He previously held various positions with Pitney Bowes Management Services, Océ North America, IKON Office Solutions and Xerox Corporation.
"Dante brings a wealth of experience to the district from his years with BOCES and his positions in the private technology sector," Tromblee said. "He served incredibly well as interim Director of Technology here in New Rochelle and he knows our district well. We know that he will continue to be invaluable as Assistant Director for Network Operations and Support. Dante will be charged with providing premier technical support services to district instructional and operational programs while fostering a future-ready network environment in alignment with the District Strategic Roadmap."
About the City School District of New Rochelle
With nearly 11,000 students in 10 schools, the City School District of New Rochelle, through an active partnership amongst community, parents, staff and students, provides a high-quality and challenging education for every child, in a safe, nurturing environment that embraces rich diversity and drives success.