Senior Shadae Leslie will move on to the national level after earning a nearly perfect score for public speaking.

MOUNT VERNON, N.Y. (April 27, 2016) — Mount Vernon students made an impressive showing at the New York State Leadership Conference earlier this month. Their greatest achievement was by Mount Vernon High School student Shadae Leslie who earned a spot in the National Future Business Leaders of America Business Skills Competitions/Conference. The academically gifted senior earned a 2nd place finish at the statewide competition of 11th and 12th graders with an average score from four judges of 98% in the Public Speaking 2 performance event. Leslie will take part in the national competition in Atlanta, Georgia this summer.
Chapters of the Mount Vernon Future Business Leaders of America (FBLA) from both Mount Vernon and Mandela/Zollicoffer High Schools took part in the three-day New York State Leadership Conference held in Rochester, NY. Students attended various workshops, business skills competitions, voting delegate meetings, and general leadership sessions.
"All of our Future Business Leaders of America students' efforts and professionalism would bring pride to the entire Mount Vernon community," said William Rundle, Future Business Leaders of America Advisor. "This was an outstanding opportunity to demonstrate skills they will need in the workplace, and they not only met the challenge; they excelled!"
Mount Vernon High School students Jahari White and Ashlene Charles were awarded 5th Place in New York State for their semi-finals and finals presentation in the Business Ethics competition. Two students from Mandela/Zollicoffer High School, Queen Boswell and Julissa Burgos, attended a college tour of the Rochester Institute of Technology (RIT) and came away knowing they definitely want to further their educations in a college campus setting.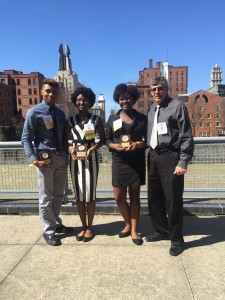 From left, Jahari White, Shadae Leslie, Ashlene Charles and William Rundle.
About Mount Vernon City School District
With more than 8,000 students in 16 schools, the Mount Vernon City School District is committed to providing a quality education to its children as well as developing programs that meet the diverse academic and social needs of its students.