Jacobowitz & Gubits, a law firm providing sophisticated legal representation to individuals and businesses across the Hudson Valley, is proud to announce the appointment of its newest partner Michael L. Fox.
"We are pleased to have Michael become a partner at Jacobowitz & Gubits," said Managing Partner Larry Wolinsky. "He is a proven manager and litigator, and brings a wealth of knowledge in several areas of practice that will help us grow and better serve our clients."
Fox, recently named to the 2013 Upstate New York Super Lawyers list, was previously a Senior Counsel handling litigation management, with his primary practice areas including federal practice, electronic discovery, employment and discrimination law, education law, business entity disputes, personal injury, as well as general civil litigation.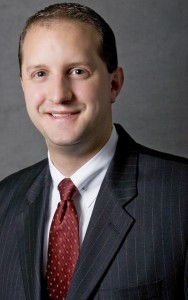 An Orange County native, he is currently the New York Young Lawyer Delegate to the American Bar Association House of Delegates, and a Delegate to the New York State Bar Association House of Delegates. He is also a past Chairperson of the Young Lawyers Section of NYSBA, one of the largest NYSBA Sections, and is past Secretary and Treasurer of the Section. Michael served as YLS Program Co-Chair for the 2009 two-day Bridge-the-Gap CLE Program during the NYSBA annual meeting and Co-Chair of the 2012 YLS Trial Academy at Cornell Law School. In addition, he is a Past Chair of the Committee on Community Service & Pro Bono of the Young Lawyers Section.
Fox is admitted to practice in New York State, as well as in the Southern, Eastern and Northern Districts of New York, the Second Circuit U.S. Court of Appeals, and the United States Supreme Court. He previously worked as an associate in the litigation department of Stroock & Stroock & Lavan, LLP in Manhattan. Fox also clerked for the Honorable Lawrence E. Kahn, United States District Judge, Northern District of New York, in Albany.
Additionally, Fox has authored or co-authored articles and CLEs concerning Federal civil procedure, attorney-client privilege & work product, electronic discovery, evidence and professional responsibility.
Fox holds a Juris Doctor from Columbia University School of Law in New York City, where he was a Harlan Fiske Stone Scholar and an Articles Editor on the Columbia Business Law Review. He earned a Bachelor of Arts, Phi Beta Kappa and summa cum laude from Bucknell University in Lewisburg, Pa., with a major in Economics and a minor in Biology.
About Jacobowitz & Gubits, LLP
Jacobowitz & Gubits, LLP, was founded in 1968 to provide sophisticated legal representation to businesses and individuals throughout the Mid-Hudson Valley and the state of New York. The solo firm established by Gerald N. Jacobowitz has grown into a practice with 28 attorneys and a full staff of paralegals and legal assistants to service a growing and dynamic client base.
Jacobowitz & Gubits, LLP, handles a wide range of legal issues including business litigation, commercial real estate, elder law and estate planning, municipal law, land use and zoning, equine law, veterans disability & income, health care law, personal injury, employment, family law, criminal law and bankruptcy.
For further information on the firm of Jacobowitz & Gubits, LLP please visit www.jacobowitz.com or call (845) 778-2121 or (845) 454-6000.