MAHWAH, N.J. (Sept. 2, 2015) — Eric P. Junkers, President, and Jason Junkers, Chief Operating Officer, yesterday accepted a proclamation given to HYTORC from the Township of Mahwah for its achievement in being a partner in the creation of the spire at the top of One World Trade Center. The Township proclaimed May 29, 2015 and each year thereafter to be the HYTORC Day of Acknowledgement. The date was chosen because it was the official opening of the One World Observatory at the top of One World Trade Center. The Township recognized HYTORC as the chosen supplier for the bolting systems that attached the 408-foot spire on top of the building, making it the tallest building in the Western Hemisphere and the fourth tallest building in the world.
HYTORC, based in Mahwah, supplied engineering consultation and the bolting-systems used to complete the communication rings and spire. Specifically, HYTORC supplied contractors with both standard and customized bolting tools, including both hydraulic and pneumatic – or pressurized air – tools, to assemble the rings and spire. HYTORC also helped determine the proper load requirements to develop an even and accurate bolt load on the 700-ton spire, which involved the assembly of about 14 pieces. Each bolt was tightened to more than 4,000 foot-pounds of torque. For comparison, a car's lug nuts are typically tightened to 80 foot-pounds of torque.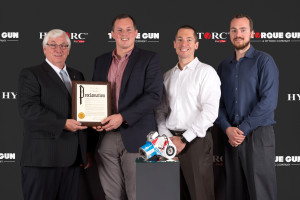 The Township also acknowledged HYTORC as a longtime member of the town's business community, having its world headquarters there since 1995. HYTORC is located at 333 Route 17 North in Mahwah.
"Mahwah is defined by the extraordinary achievements of our corporate business partners," Mayor William Laforet said. "We recognize HYTORC for its achievements in bolting technology, and more importantly for its contribution as the bolting technology for the World Trade Center. We are a proud community made better by HYTORC and its employees."
"HYTORC is honored by this acknowledgement from the Township of Mahwah," said Eric Junkers. "Having our worldwide headquarters here with the town's support for all these years has been a wonderful benefit for both our company and our employees."
"The awareness of our work on the spire at One World Trade Center continues to grow and is a hallmark of the quality, dependable work and equipment that HYTORC provides to its clients," said Jason Junkers.
Photo: Township of Mahwah Mayor William Laforet; Eric P. Junkers, President; Jason Junkers, Chief Operating Officer; and Tyson Junkers, Creative Director.
ABOUT HYTORC
HYTORC is the world's largest and oldest manufacturer of industrial bolting systems. The international company is family-owned and operated, and has been in business since 1968. With a focus on world-class customer service, the company has more than 50 locations in the United States and a comprehensive network of dedicated distributors and service centers worldwide. For more information, visit http://www.hytorc.com.