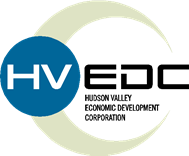 NEW WINDSOR, N.Y. (October 2, 2013) — The Hudson Valley Economic Development Corp. (HVEDC) on Tuesday hosted former New York City Mayor Rudy Giuliani, who spoke on the global threat from cyber-terrorism and the critical need for stronger cybersecurity to a packed room of more than 350 business people from throughout the Hudson Valley.
The HVEDC Thought Leaders Master Series event at Anthony's Pier 9 in New Windsor was scheduled during the start of National Cybersecurity Awareness Month, which is designed to engage and educate people through events and initiatives with the goal of raising awareness about cybersecurity and increasing the resiliency of the nation in the event of a cyber incident.
The subject of the night's discussion was "Cybersecurity: America's Digital Warfront." Giuliani, one of the nation's leading experts on homeland security, addressed concerns about this growing digital crime wave, and the implications for businesses in the Hudson Valley.
Giuliani said the nation is good at marshaling resources and fixing security problems from previous attacks but added, "We don't do a good job conceiving what the next attack will be, and that's where cybersecurity comes into play." He said the military is well-protected because it has been a focus of the federal government, but state and local governments are woefully under-protected against these threats and so are corporations and smaller businesses. Companies will need to see how these threats impact their bottom lines. "We're going to solve this problem in the private sector when corporations see they need to protect themselves," he said.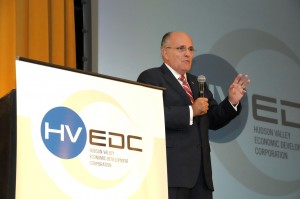 Internet crime has been one of the fastest-growing categories of criminal offenses in recent years. These crimes strike 1.5 million victims a day. Two-thirds of cyber attacks are foreign-based and one in five businesses was a victim last year. The annual cost of cybercrime is $100 billion and growing. More than 600,000 Facebook accounts are compromised and 74 million scam emails are sent daily. Since online crimes are notoriously difficult to investigate and prosecute, there is little that can be done from an enforcement perspective. Cybersecurity focuses on preventing attacks before they occur.
"This was our first Master Series event and HVEDC is so pleased that it was such a major success," said Laurence P. Gottlieb, president and CEO of HVEDC. "We were happy to bring such a high-level, intelligent discussion on an important topic to our region's businesses. This was a 'must-attend' event for those in business who are concerned about information security and by the size of the crowd attending this was an event that was highly valued by our business community and a tremendous success."
The event was sponsored by Provident Bank, Entergy, Central Hudson, the Poughkeepsie Journal, Pamal Broadcasting, New York Medical College's Center for Disaster Medicine and Mercy College.
About Hudson Valley Economic Development Corporation (HVEDC)
HVEDC is the leading economic development agency for the seven-county region of Westchester, Putnam, Dutchess, Rockland, Orange, Ulster and Sullivan counties. The public-private partnership markets the region as a prime business location to corporate executives, site selection consultants and real estate brokers. HVEDC also helped start the branding and promotional effort for NY BioHud Valley. For more information or to review available business sites, visit www.hvedc.com or call CEO Laurence P. Gottlieb at 845-220-2244.
About Rudy Giuliani
On September 11, 2001, America suffered the worst attack in its history when terrorists crashed planes into the Twin Towers of the World Trade Center. Thousands of New Yorkers were killed, including hundreds of members of the city's uniformed services, who rushed to the scene to lead the heroic rescue of tens of thousands of people.
Having narrowly missed being crushed when the Towers fell, Mayor Rudy Giuliani immediately began leading the recovery of the city as it faced its darkest hour. Mayor Giuliani was widely lauded for his steady hand during challenging times. He was named "Person of the Year" by TIME magazine, knighted by the Queen of England, dubbed "Rudy the Rock" by French President Jacques Chirac, and former first lady Nancy Reagan presented him with the Ronald Reagan Presidential Freedom Award.
After two terms, Mayor Giuliani founded Giuliani Partners in January 2002, quickly establishing the professional services firm as a leader in emergency preparedness, public safety, leadership during crises, and financial management. He ran for the Republican nomination for President of the United States in 2008. During his campaign, one of his critical issues was national security.