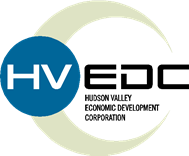 NEW WINDSOR, N.Y. (March 20, 2014) — Hudson Valley Economic Development Corp. (HVEDC) and AXON Communications hosted "The Next Big Thing: Digital Health" today at Marist College in Poughkeepsie. More than 300 regional business leaders, healthcare and technology executives, academicians, scientists, researchers, government officials and the media attended the event.
Part of a series of educational forums organized by HVEDC, The Next Big Thing: Digital Health offered insights into one of the fastest-growing business segments in the world from a number of speakers on various topics related to digital healthcare, including the tools, resources and technologies that are making a positive impact on the US economy.
"Digital health is an incredibly important topic that will drive the future of our regional economy," said Laurence P. Gottlieb, president and CEO of HVEDC. "This event was a tremendous success, as it allowed business leaders across the Hudson Valley to learn more about the opportunities and challenges we currently face. As we aim to kick off a healthcare economic revolution in our region, this event provided a great start."
Topics of interest included big data analysis related to the US healthcare system, the next phase of implementing electronic medical records in the hospital and ambulatory settings, bioinformatics and how the pharmaceutical sector is leveraging digital health and more.
"We were very pleased to host this outstanding event on digital health featuring business professionals from throughout the Hudson Valley," said Geoffrey Brackett, executive vice president of Marist College. "We would like to thank HVEDC for initiating the forum. This was a great opportunity for Marist College, home to the New York State Cloud Computing and Analytics Center in partnership with IBM, to play a role in forecasting the future of a very important industry in our region."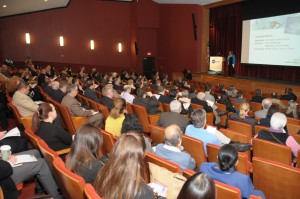 In a keynote presentation, "Digital Health's High Tech Building Blocks: Separating the Hype from the Happening," Robin Raskin, founder of Living in Digital Times, spoke about the technologies that are shaking up the digital health sector. The increasing use of technologies like mobile smartphones, sensors and cloud computing, paired with the Affordable Care Act and price comparison trends, are changing the way doctors deliver and patients receive care across the country.
Jeff Reid, Ph.D., director of genome informatics at Regeneron Genetics Center and the event's second keynote speaker, presented on "Genomics, Computing and the Future of Medicine." Dr. Reid focuses his research on large-scale sequence analysis and the incorporation of electronic medical records to help improve patient care and provide further insight into basic biology. He spoke about how rapidly evolving technologies are changing patient outcomes and leading to greater efficiencies and effectiveness in medical treatment and care.
In addition to the keynotes, the forum featured presentations from AXON Communications, HVEDC, Honeywell, New York Medical College, Philips Research, Purdue Pharma, Regeneron Pharmaceuticals, Riverside Healthcare System/St. John's Riverside Hospital and various others. HVEDC, in partnership with AXON, also unveiled an HVEDC NY BioHud Valley report titled, "2013 Annual Review: The State of the Life Sciences Industry in the Hudson Valley." The report offers key information on the current state of the industry across the region, including available statistics, survey data and exclusive articles.
"The information and insights shared at the Next Big Thing event were incredibly valuable to businesses and organizations across virtually all industries in the Hudson Valley," said Mario Nacinovich, managing partner at AXON Communications. "This was truly a dynamic forum where experts in various disciplines within healthcare shared their knowledge and beliefs of how data and technology will shape decisions and all aspects of our environment from patient bedside to corporate boardroom."
This is the second Next Big Thing event. At last year's event, HVEDC announced that it was embarking on a third, major cluster marketing initiative – Hudson Valley 3D Printing (HV3D). The initiative puts together in one place educational and funding resources for Hudson Valley businesses using (or anyone interested in using) 3D printing technology and helped launch a new 3D printing curriculum initiative at SUNY New Paltz. In February, the HV3D consortium cut the ribbon on the new MakerBot 3D Printing Innovation Center at SUNY New Paltz – the first of its kind in the nation.
County Executive Marcus J. Molinaro said, "Dutchess County has long been the home of new and innovative industries. Digital technology is transforming the delivery of healthcare, reducing costs and improving quality. We are excited to host the Digital Health Forum here in Dutchess County and learn more about the economic potential this emerging industry can deliver for the entire Hudson Valley."
"Dutchess County Economic Development Corp. is pleased to see such a tremendous turnout for this noteworthy HVEDC event," said Catherine A. Maloney, president and CEO of the DCEDC. "You have people who are not only from the local business community but throughout the area – like scientists, government officials, healthcare personnel, technology experts – and that is great to see and shows how important this topic is to the Hudson Valley."
For more information on the event, visit http://www.hudsonvalleydigitalhealth.com.
About Hudson Valley Economic Development Corporation (HVEDC): HVEDC is the leading economic development agency for the seven-county region of Westchester, Putnam, Dutchess, Rockland, Orange, Ulster and Sullivan counties. The public-private partnership markets the region as a prime business location to corporate executives, site selection consultants and real estate brokers. HVEDC helped start the organizational, branding and promotional effort for NY BioHud Valley and the Hudson Valley Food & Beverage Alliance. To learn more, call 845-220-2244 or visit http://www.hvedc.com.
About AXON Communications: AXON Communications provides medical communications, public relations and clinical trial support services to a wide range of leading pharmaceutical and medical devices companies internationally. It has operations in London, New York, Toronto and Copenhagen.