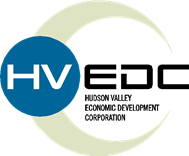 NEW WINDSOR, N.Y. (June 11, 2015) — Hudson Valley Economic Development Corp. (HVEDC) recently received six major marketing awards from the New York State Economic Development Council (NYSEDC).
HVEDC, which works to promote economic development throughout the region, was recognized for developing and implementing a wide range of both digital and traditional marketing efforts. The organization earned Best in Class awards in the categories of Website, Annual Report, Multimedia Advertising and Printed Advertising Material, while receiving another honorable mention in Multimedia Advertising. HVEDC also earned a Certificate of Excellence for producing its 2014 Business Climate Survey.
"It is a true honor to be recognized in this way from the NYSEDC and to see our organization distinguished among so many others throughout the state of New York," said Jim Laurito, Chair of the HVEDC Board of Directors. "The award-winning marketing strategies and materials we have been able to implement have helped position the Hudson Valley as a true economic hub throughout the state and across the region."
In terms of printed advertising materials, HVEDC continued its campaign for the Hudson Valley Food & Beverage Alliance, developed with agency of record Focus Media. The campaign featured local companies like Bobby Sue's Nuts, Catskill Distilling Company, Bull & Barrel Brew Pub and FarmersWeb, along with the Shawangunk Wine Trail.
In the Multimedia category, HVEDC received accolades for its Digital Health Infographic video, which showcased how technology is changing the health care field at a rapid pace—and shifting the Hudson Valley's economy for the better. The organization also developed a video for the Food & Beverage Alliance's Beer, Wine, Spirits & Cider Summit 2.0 event. Media partner Ellenbogen Creative Media produced both videos.
In the Website category, HVEDC was honored for the relaunch of the HVEDC.com digital platform, including a new and improved mobile version for users. Additionally, NYSEDC recognized the organization's annual report, designed by Focus Media and centered on the theme of "stitching together the fabric" of the Hudson Valley regional economy.
"We are aggressively promoting the Hudson Valley using numerous channels to communicate everything business, government and academic leaders are doing to boost our regional economy and create jobs," said Laurence P. Gottlieb, President and CEO of HVEDC. "We are very pleased with the results, and the awards we've received are a reflection of the effectiveness of our marketing efforts."
About Hudson Valley Economic Development Corporation (HVEDC): HVEDC is the leading economic development agency for the seven-county region of Westchester, Putnam, Dutchess, Rockland, Orange, Ulster and Sullivan counties. The public-private partnership markets the region as a prime business location to corporate executives, site selection consultants and real estate brokers. HVEDC helped start the organizational, branding and promotional effort for NY BioHud Valley, Hudson Valley Food & Beverage Alliance, Hudson Valley 3D Printing and Hudson Valley EDs & MEDs. To learn more, call 845-220-2244 or visit http://www.hvedc.com.