When the mercury drops, Orange County, N.Y. is the destination for a wide range of attractions 
ORANGE COUNTY, N.Y. (October 28, 2015) – As the days get shorter, indoor exhibits provide families the entertainment they seek without having to weather the elements. A variety of museums in Orange County, N.Y. offer fun, educational options for adults and kids alike.
"November weather can be unpredictable, but visitors to Orange County can spend their days indoors exploring everything from a glass factory to hundreds of vintage motorcycles," said Orange County Tourism Director Susan Hawvermale. "It's the perfect time of year to discover our many museums."
Some museums to consider for indoor fun include:
Harness Racing Museum & Hall of Fame: Drive a sulky to the finish line in the 3-D simulator. Riveting state-of-the-art and interactive exhibits. Call and judge a race. Theaters tell the fascinating history of America's first sport. Home of the largest collection of Currier & Ives trotting prints. Changing art exhibits. 240 Main Street, Goshen, N.Y. www.harnessmuseum.com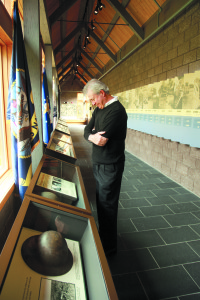 National Purple Heart Hall of Honor: Newly renovated and dedicated to the stories of Purple Heart recipients. Film, interviews, exhibits, and the Roll of Honor, an electronic database of recipients from the Civil War through Afghanistan. 374 Temple Hill Road, New Windsor, N.Y. www.thepurpleheart.com
Gillinder Glass: Watch skilled craftsmen at work as they transform molten glass into beautiful and useful objects. The Glass Museum traces the history of the company from 1861 and into the future with original glass, memorabilia, and photographs. 39 Erie Street, Port Jervis, N.Y.
Karpeles Manuscript Library Museum: Changing exhibits of original manuscripts and documents from the world's largest private collection. Monthly exhibitions of local and national artists in all media. FREE. 94 Broadway, Newburgh, N.Y. www.karpeles.com
West Point Museum: Military uniforms, flags, weapons and military art of both American and European derivation. Museum galleries include history of the Academy, US Army, and Warfare from Egyptian ti
mes to Desert Storm. 2110 New South Post Road, West Point, N.Y. www.usma.edu/MUSEUM/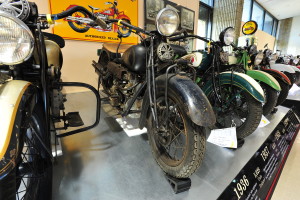 Motorcyclepedia: Features over 450 motorcycles along with photographs, posters, memorabilia, machinery, and other things related to bikes. There are several galleries including The Indian Timeline, Chopper City, and Harley-Davidsons. 250 Lake Street, Newburgh, N.Y.  www.motorcyclopediamuseum.org
Be sure to visit Orange County Tourism's Facebook page: Orange County Tourism N.Y. It's a fabulous guide to up-to-the-minute postings of area events and activities, great times, and memorable experiences for visitors.
Also, visit Orange County Tourism's new website: www.orangetourism.org.
About Orange County Tourism
Orange County Tourism, based in Goshen, N.Y., is the county's tourism headquarters and a participant in the I LOVE NY program. A comprehensive listing of area attractions, lodging, and events can be found at www.OrangeTourism.org. For a free copy of the Orange County Travel Guide, e-mail tourism@orangecountygov.com or call 845-615-3860.
Attached are pictures of Motorcyclopedia and National Purple Heart Hall of Honor.