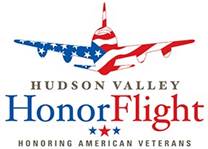 WALDEN, N.Y. (Nov. 14, 2014) — Hudson Valley Honor Flight will be hosting a red carpet world premiere of the documentary film, "Hudson Valley Honor Flight: Generation Bridge" on January 24 at the Paramount Theatre in Middletown.
The film, produced by Rockland County resident Joe Allen, documents Hudson Valley World War II veterans' experiences and tells the story and mission of Hudson Valley Honor Flight, which provides a day of honor bringing WWII veterans free of charge to the nation's capital to visit the WWII memorial.
The film also captures the interactions of veterans working with teens in area schools to provide insight into the World War II era. It documents the sharing of information with area high school and middle school students. A goal of the film is to link the younger generations with the greatest generation. Honor flight veterans went into schools to talk with the younger generation and share their experiences of WWII. Students had a chance to hear stories and learn lessons from the veterans.
"We are excited that after a year of producing this film, we will finally be able to celebrate the world premiere of this amazing story right here in the Hudson Valley, with our WWII veterans in attendance," said Frank P. Kimler, Chairman of the Hudson Valley Honor Flight Board of Directors.
The premiere is scheduled to show at 5 p.m. on Jan. 24, 2015, at the Paramount Theatre in Middletown. Doors will open at 4 p.m. with the film's stars and guests parading the red carpet.
Tickets are on sale now. General admission is $15 and VIP tickets are $75. VIPs will have priority seating and a meet-and-greet reception, including food and beverage, with the film's veterans and producers afterward. Tickets can be purchased at http://middletownparamount.com or at the box office. WWII veterans may visit the Paramount box office in advance to receive tickets at no cost. For more information, contact Hudson Valley Honor Flight at 845-391-0076.
Allen, the film's producer, is senior vice president, employee communications and community affairs at Active International at Pearl River. He is also president of the board of directors of People to People, Rockland County's largest food pantry, in Nanuet, and is the producer, director and writer of "20 Million Minutes," a documentary about efforts to have a minute of silence to honor the 11 Israeli victims of terror during the 1972 Olympics.
ABOUT HUDSON VALLEY HONOR FLIGHT
Hudson Valley Honor Flight (HVHF) is a 501c3 nonprofit organization which "Honors American Veterans" for all their sacrifices. HVHF transports these heroes to Washington, D.C. to visit their memorials at no cost to them. It is the local hub of the National Honor Flight Network (which consists of more than 100 independent non-profit "hubs" across America). HVHF flies multiple times a year out of Stewart International Airport and Westchester County Airport. It serves veterans from the following counties: Orange (N.Y.), Ulster (N.Y.), Dutchess (N.Y.), Westchester (N.Y.), Rockland (N.Y.), Sullivan (N.Y.), Putnam (N.Y.), Pike (Pa.), Bergen (N.J.), and Fairfield (Conn.). Veterans from other surrounding counties are considered as well. Top priority is given to those of the Greatest Generation, that of World War II, and terminally ill veterans from other wars. HVHF plans to take ALL veterans from other wars on future flights. Applications are kept on file. For more information, visit www.hvhonorflight.com