MOUNT VERNON, NY. (Sept. 15, 2017) — Representatives of the Graham Elementary School Alumni Association presented 50 backpacks filled with school supplies to school officials to hand out to first-graders on Sept. 12, marking the second year the group has done so.
The association is looking to do this every year as a way of giving back to the community and acknowledging the school's efforts to ensure a high quality education for children in kindergarten through the sixth-grade.
Proceeds from the Graham Heights Community Barbecue — where many members lived as children — were used to purchase backpacks and school supplies for first-graders.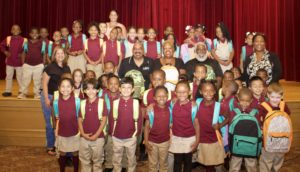 "To me, the younger students really appreciate these things," said Dino Young, a spokesperson for the alumni association. "The backpacks are filled with notebooks, crayons, glue sticks, folders, pencils and related items of interest for second-graders."
Young, a member of the Graham Class of 1970, values school and understands the importance of young people being prepared each and every day.
"You always give back, that's how I was raised by my parents," said Young. "You should always come back and give (to Graham.). Graham school was my first school. I started first- grade there. When I finished there, I was definitely prepared for the next step."
Principal Dr. Natasha Hunter-McGregor was grateful for the group's ongoing interest as she watched the faces of the young people light up as they selected a backpack of their choice.
"They graduated from our school many, many years ago," she said. "But it's clear when they come into the building that they have very, very fond memories of their time here at Graham. That's how we want all of our students to feel. A positive early education experience sets the stage for future success. Not too many elementary schools even have an alumni association. The fact that Graham has an alumni association committed to giving back each year is fabulous. On behalf of the entire Graham community we say, thank you for caring about our first-grade scholars."
About the Mount Vernon City School District
With more than 8,000 students in 16 schools, the Mount Vernon City School District is committed to providing a quality education to its children as well as developing programs that meet the diverse academic and social needs of its students.