GOSHEN, N.Y. (May 31, 2016) — The Glen Arden Continuing Care Retirement Community, will host a free "Dinner with the Doctor: All about Snoring and Sleep Disorders" buffet lecture with Dr. Samer El Zarif, M.D. on Monday, June 20 at 6 p.m. in Glen Arden's Rhinebeck Room.
Dr. El Zarif, a member of Orange Regional Medical Group's Division of Pulmonary, Critical Care and Sleep Medicine, will discuss snoring issues and sleep disorder topics to further increase awareness about them and their treatment options.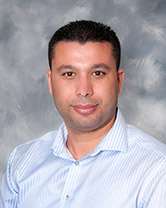 Dr. El Zarif, an adjunct assistant professor at Touro College of Osteopathic Medicine in Middletown, is board-certified in internal, pulmonary, critical care and sleep medicine.
Dr. El Zarif earned his bachelor's degree in biology from the American University of Beirut, before receiving his medical degree from the University of Balamand in Koura, Lebanon. He then moved to New York City and finished his internal medicine residency at Staten Island University Hospital, where he was nominated for the Intern of the Year award.
Dr. El Zarif later completed a fellowship in pulmonary and critical care medicine at the University of South Alabama, where he also served as a chief fellow during the last year of his training.
After completing his fellowship, Dr. El Zarif was accepted for a sleep medicine fellowship at Cleveland Clinic in Ohio, a world-known referral center. During his training, he treated both adults and pediatric patients with complex sleep-related medical disorders. His special interest is in the post-operative complications of sleep apnea, and he went on to present the results of his research at the "Sleep 2015" annual meeting of the Associated Professional Sleep Societies.
Dr. El Zarif is a member of the American College of Chest Physicians (ACCP), the American Thoracic Society (ATS), the American Academy of Sleep Medicine (AASM) and the Sleep Research Society (SRC).
Reservations are required and can be made by calling Maureen Torelli at 845-360-1424 or by email to: mtorelli@elant.org.
About Glen Arden
Glen Arden, the Hudson Valley's premier Continuing Care Retirement Community, offers seniors 62 and older the perfect combination – independence with the assurance of quality health care, if it's ever needed. Located in beautiful and historic Goshen, N.Y., Glen Arden offers housing choices for an active lifestyle and support services to help residents live comfortably and independently.
About Orange Regional Medical Group
Orange Regional Medical Group (ORMG) and Catskill Regional Medical Group (CRMG) are part of the Greater Hudson Valley Health System, comprised of the well-established and highly regarded Orange Regional Medical Center and Catskill Regional Medical Center. CRMG and ORMG are new and growing multi-specialty, hospital-supported medical practices with Board-certified doctors, Board-certified nurse practitioners and Board-certified Advanced practice professionals providing outpatient and inpatient care servicing Orange, Sullivan, Ulster Counties and beyond. For more information, visit www.orangeregionalmedicalgroup.org and www.catskillregionalmedicalgroup.org