Fifth-grade class earns overall countywide first place honors,
with four individual grade-level honors also awarded
TUXEDO, N.Y. (Jan. 29, 2016)  — Students from George Grant Mason School in Tuxedo were honored at the recent West Point-Loyola University women's basketball game half-time program for their accomplishments in West Point's Army Black Knights School Reading Program.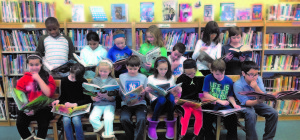 The Black Knights Reading Program recognizes schools and students who document large amounts of pages read in an effort to reinforce and emphasize the importance of reading.
"Our fifth-graders had the highest number of pages read of any other participating school in Orange County," said Amanda Sayles, George Grant Mason School reading specialist.  "Our school was also honored for having the top readers in kindergarten, first, second and fifth-grade because they read the highest number of pages."
GGM's fifth-grade class earned "High Class Total" honors by reading a total of 22,824 pages.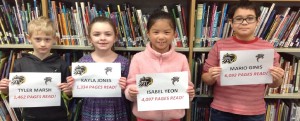 In addition, Black Nights "Highest Individual" reading honors, by grade level, were awarded to:
Kindergartener Tyler Marsh, for reading 1,462 pages
First-grader Kayla Jones, for reading 1,334 pages
Second-grader Isabel Yeon, for reading 4,097 pages
Fifth-grader Mario Ginis, for reading 6,092 pages
"Books expand our understanding of the world," added Sayles. "Not only can books provide mental stimulation and offer readers additional knowledge, reading provides an opportunity to develop stronger analytical thinking skills, improved focus and concentration and even better writing skills. We're thrilled to see our fifth-grade class and these four students honored for their reading accomplishments."
In addition to being recognized during the Jan. 9 game, Black Knights women's basketball players will make a special visit to GGM this spring as an additional way of honoring students for their reading efforts.
About the Tuxedo Union Free School District
The Tuxedo Union Free School District is a K-12 school district located at the southernmost tip of Orange County, near Sterling Forest and Harriman State Park. The George Grant Mason School is the district's K-6 school and was named a 2015-2016 New York State Reward School, which recognizes schools that have made the most progress or have the highest achievement statewide with no significant gaps in student achievement. George F. Baker High School is home to students in grades 7 to 12. The district's mission is to engage students in the pursuit of knowledge for academic success, productive citizenship and the development of personal potential in a diverse and changing world, while offering opportunities for real life experience in a safe and secure learning environment meeting every student's individual needs. For more information, visit: http://tuxedoufsd.org.