TUXEDO, N.Y. (Feb. 8, 2016)  — Kindergarten STEM education at Tuxedo's George Grant Mason (GGM) School has an "international infusion" now that O.J. Meekins' class is interacting with a Quito, Ecuador preschool class via 'Google Hangouts."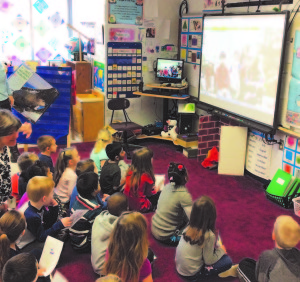 "Our kindergartners are learning that our 1:1 iPads daily use brings us access to all kinds of information," said Meekins. "Now, the latest technology we've introduced to them was videoconferencing through Google Hangouts. Through this technology, we've met and are interacting with students at Alliance Academy International's preschool."
Google Hangouts is a communication platform which includes instant messaging, video chat, short message service (SMS) and voice over IP (VOIP) features. Google says Hangouts is designed to be "the future" of its telephony product, Google Voice. Hangouts allows conversations between two or more users and the service can be accessed online through the Gmail or Google+ websites or through mobile apps.
Tuxedo Interim Superintendent Nancy Teed said the district's STEM curriculum seeks to discover answers to real life issues, beginning with its youngest students.
"Several kindergarten students have family members who live in other countries," Teed said. "As the students experience videoconferencing, they are learning to be comfortable with technology's capabilities and will bring that confidence home to their families."
But, it's more than just technology, too. The Tuxedo students are also getting an early introduction to the Spanish language and the Quito preschoolers are building on their English language lessons.
"The Alliance Academy International's Preschool is an English Immersion program,"   said Bethany Meekins de Coloma, the academy's early childhood administrator and Meekins' daughter. "Though 85 percent of the students are English language learners, the students are well on their way to developing English fluency and comprehension."
Meekins de Coloma said the engagement with other children internationally through technology helps students to further understand the meaning of "community" includes the international community.  Technology, like Google Handouts, makes that international community connection immediately available.
At the "first meeting" of both groups, students introduced themselves, sang songs to each other and agreed to read a book by author Jan Brett in preparation for next month's online gathering.
"We will also make cards for each other and scan, email and print them," said Meekins, the GGM teacher. "Experiencing this connection was near magical. Future ideas may be comparing our weather patterns, seasons and favorite activities and spring traditions. We will also let the children's interests and questions guide the different ways we will connect with our new friends in the days to come."
About the Tuxedo Union Free School District
The Tuxedo Union Free School District is a K-12 school district located at the southernmost tip of Orange County, near Sterling Forest and Harriman State Park. The George Grant Mason School is the district's K-6 school and was named a 2015-2016 New York State Reward School, which recognizes schools that have made the most progress or have the highest achievement statewide with no significant gaps in student achievement. George F. Baker High School is home to students in grades 7 to 12. The district's mission is to engage students in the pursuit of knowledge for academic success, productive citizenship and the development of personal potential in a diverse and changing world, while offering opportunities for real life experience in a safe and secure learning environment meeting every student's individual needs. For more information, visit: http://tuxedoufsd.org or call 845-351-2296.