Find Homemade Gifts for Friends and Family at One of Orange County, N.Y.'s Holiday Bazaars

ORANGE COUNTY, N.Y. (November 1, 2017) – Jump-start your holiday shopping with handmade gifts from local artisans at one of many holiday bazaars in Orange County, N.Y. From home décor to jewelry, find unique gifts for your loved ones this holiday season.
"Shopping is more fun this holiday season at our fairs and boutiques," said Orange County Tourism Director Susan Hawvermale. "Bring the kids, stay for lunch, and fill out your gift list with everything from antiques to gourmet foods."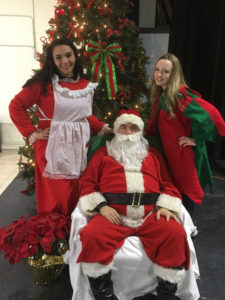 Some Orange County holiday fairs include:
• St. James' Christmas Fair, 1 St. James Place, Goshen, N.Y. Saturday, November 18, 2017, 10:00 a.m.–3:00 p.m.: peruse a generous offering of homemade baked goods and soups, holiday decorations, books, religious and inspirational gifts, household items, jewelry, collectibles, antiques, crafts and activities for children. Lunch and photos with Santa available. www.stjamesgoshen.org
• Bells on Broadway Holiday Market and Children's Festival, Lobby at the Ritz and the Historic Green Room, 107 Broadway, Newburgh, N.Y. Saturday, November 18, 2017, 11:00 a.m.–4:00 p.m.: features local artisans and vendors offering a selection of handmade jewelry, scarves, handbags, pottery, candles, soaps, gourmet food and more. Admission is free with a nominal charge for snacks and photos with Santa and Frosty. www.safe-harbors.org
• Christkindlmarkt German Christmas Market, 1 Jersey Avenue, Port Jervis, Sunday, November 26, 2017, 10:00 a.m.–6:00 p.m.: an enchanting family event in the tradition of markets held throughout Germany during the Christmas Season. You will find unique gifts and specialty handmade crafts, live entertainment, plus traditional food by local retailers and crafters. The grand finale is the arrival of the Santa express at 5:00 p.m. www.portjervisny.org
• Burke Catholic High School Christmas Boutique at John S. Burke Catholic High School, 80 Fletcher Street, Goshen, N.Y. Saturday, December 2, 2017, 10:00 a.m.–4:00 p.m.: enjoy a fun day of holiday shopping with more than 40 local artisans and vendors represented. For its 5th annual boutique, Burke Catholic will be introducing a "Kids Only Christmas" Shop, where all items will cost less than $5 and pictures with Santa will be available. The café will be serving lite fare. Kick off the day with Santa and friends at the Ugly Sweater Jingle Jog at 9:00 a.m. www.burkecatholic.com
• Holiday Craft Boutique, D & H Canal Visitor's Center, 58 Hoag Road, Cuddebackville, N.Y., Sunday, December 3, 2017, 10:00 a.m.-3:00 p.m.: Handcrafted items by local artisans in a boutique setting! Home decor, primitive and folk art, handmade candles, soaps, jewelry, pet accessories, holiday ornaments and other unique items. Many items under $5. www.neversinkmuseum.org
Be sure to visit Orange County Tourism's Facebook page: Orange County Tourism NY for up-to-the-minute postings of area events and activities, great times, and memorable experiences available to visitors. Also visit Orange County Tourism's innovative and user-friendly new website: www.orangetourism.org.
About Orange County Tourism
Orange County Tourism, based in Goshen, N.Y., is the county's tourism headquarters and a participant in the I LOVE NY program. A comprehensive listing of area attractions, lodging, and events can be found at www.OrangeTourism.org. For a free copy of the Orange County Travel Guide, e-mail tourism@orangecountygov.com or call 845-615-3860.