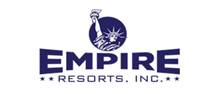 Casino vendor licensing requirements, MWVBE opportunities to be discussed!
MONTICELLO, N.Y. – Empire Resorts, Inc. (NASDAQ-GM:NYNY) ("Empire") – with the assistance of its diversity consultant DACK Consulting Solutions, Inc. and construction manager LPCiminelli – is hosting two informational sessions on Tuesday, Jan. 12, 2016, for contractors and vendors interested in providing services and/or supplies for Montreign Resort Casino.
Sub-contracting and vendor opportunities as well as the pre-qualification process will be discussed. The outreach meetings will be held at two locations:
10:00 a.m.: Sullivan County Government Center – 100 North St., Monticello, N.Y. 12701
2:00 p.m.: Orange County 911 Center – 22 Wells Farm Road, Goshen, N.Y. 10924
"This project is an extraordinary opportunity for contractors and vendors throughout the Hudson Valley," said Charles Degliomini, Executive Vice President for Empire Resorts. "Montreign is a project of regional significance and this is a key time for local companies to connect with us so they can benefit from this opportunity."
The New York State Gaming Commission, which regulates all aspects of gaming and gambling activity, will present licensing requirements for contractors and vendors who would like to do business with casinos. Empire State Development will explain Gov. Cuomo's commitment to ensuring significant Minority, Women and Veteran-owned Business Enterprise (MWVBE) participation in capital projects such as Montreign.
Montreign will be an 18-story casino, hotel and entertainment complex featuring a 90,000-square-foot casino, 332 hotel rooms, and multiple dining and entertainment options. It will be built in the Town of Thompson, Sullivan County, and is a construction project for which there is a Project Labor Agreement.
"Success on every level for the people of Sullivan County has been the goal of the Sullivan County Legislature since the very beginning of our quest for full-scale casino gaming with the enactment of the legislation almost three years ago," said Scott B. Samuelson, Chairman, Sullivan County Legislature. "This informational session is just one more tool for people and businesses in our community to gain understanding of the requirements in order to ultimately participate in this extraordinary process. I urge anyone that is seeking information to attend this most important and informative session."
"The Montreign Resort Casino project has created a buzz in Sullivan County and it has definitely extended to Orange County," Orange County Executive Steven M. Neuhaus said. "Montreign will create a variety of jobs for Orange County residents and generate tourism revenue. The information session will serve as a great way to reach out to contractors and vendors interested in being a part of the project. I expect it to be productive and I look forward to watching Montreign's plan develop in the coming months. I know it will be a success."
Individuals and businesses interested in attending should email mwbecasino@dackconsulting.com or call MWVBE Community Outreach at (845) 372-6281 to register by Jan. 8, 2016.
About Empire Resorts
Empire Resorts, Inc. is constructing Montreign – an 18-story casino, hotel and entertainment complex with 102 table games, 2,150 state-of-the-art slot machines and 332 luxury rooms designed to meet 5-star and 54-diamond standards. For additional information, please visit www.montreign.com.
Empire also owns and operates, through its subsidiary Monticello Raceway Management, Inc., the Monticello Casino and Raceway, a harness racing track and casino in Monticello, N.Y., and is 90 miles from midtown Manhattan. For additional information, please visit www.empireresorts.com.
This press release includes "forward-looking statements" intended to qualify for the safe harbor from liability established by the Private Securities Litigation Reform Act of 1995. These statements include statements about our plans, strategies, financial performance, prospects or future events and involve known and unknown risks that are difficult to predict. As a result, our actual results, performance or achievements may differ materially from those expressed or implied by these forward-looking statements. In some cases, you can identify forward-looking statements by the use of words such as "may," "could," "expect," "intend," "plan," "seek," "anticipate," "believe," "estimate," "predict," "potential," "continue," "likely," "will," "would" and variations of these terms and similar expressions, or the negative of these terms or similar expressions. Such forward-looking statements are necessarily based upon estimates and assumptions that, while considered reasonable by Empire and its management team, are inherently uncertain. Factors that may cause actual results to differ materially from current expectations include, among others, levels of spending in business and leisure segments as well as consumer confidence; plans for signing and closing on definitive transaction documents; the construction commencement date for Montreign Resort Casino; relationships with associates and labor unions and changes in labor law; the financial condition of, and our relationships with, third-party property owners and hospitality venture partners; changes in the competitive environment in our industry and the markets where we operate; the timing of the receipt of regulatory and governmental approvals for the Montreign Resort Casino, including the issuance of a gaming facility license to Empire; changes in federal, state or local tax law; general volatility of the capital markets and our ability to access the capital markets to consummate the necessary financing. A more complete description of these risks and uncertainties can be found in our filings with the U.S. Securities and Exchange Commission. We caution you not to place undue reliance on any forward-looking statements, which are made as of the date of this press release. We undertake no obligation to update publicly any of these forward-looking statements to reflect actual results, new information or future events, changes in assumptions or changes in other factors affecting forward-looking statements, except to the extent required by applicable laws. If we update one or more forward-looking statements, no inference should be drawn that we will make additional updates with respect to those or other forward-looking statements.
Contacts
Empire Resorts, Inc.
Charles Degliomini, 845-807-0001