NEWBURGH, N.Y. (April 8, 2014) — At the end of last October, Eugene Helms fell in his bathroom, hit his head, cut his hand badly on a baseboard heater and needed to recover in the hospital. Complicating the fall was the fact that Helms has dementia and Parkinson's disease.
At the time of his stay, doctors began talking to his wife Patricia about the need for Mr. Helms, 80, to be placed in a long-term care facility.
"I wasn't ready to leave him," said Mrs. Helms. "I wasn't ready to have him in a nursing home for the rest of his life."
She did, however, decide to place him in a nursing home in Middletown while she stayed at the couple's apartment in their senior housing complex in Pine Bush. But she wasn't happy with the arrangement.
One day, on her way out the door to visit her husband, Mrs. Helms noticed a man setting up a presentation in the complex's community room, so she stopped to look into what was going on. He was about to present the Elant Choice program to the complex's residents. Mrs. Helms stayed for the presentation and soon learned about Managed Long-Term Care Plans. Afterward, she explained her husband's situation to the presenter, Dana Pavelock, Director of Business Development for Elant Choice.  "We can help you," was his immediate reply. Those words marked the beginning of positive changes for Mr. and Mrs. Helms.
Elant Choice is Managed Long-Term Care Plan (MLTCP) designed to help keep people independent and safe in the comfort of their home by supporting their care needs with a team of personnel that work with a program member and his or her family both in person and over the phone. The program provides each member with a dedicated care manager – a registered nurse – who visits them in their home and develops a personalized plan of care, tailored to the member's specific health needs.
Last summer, the New York State Department of Health mandated certain Medicaid recipients (in need of long-term care for more than 120 days) in Orange and Rockland counties to enroll in a MLTCP. The mandate is being implemented in phases across the state and comes as part of Governor Cuomo's Medicaid Redesign Team initiatives, aimed at eliminating unnecessary Medicaid expenses in order to sustain the program and to provide Medicaid recipients with a higher quality of care.  This summer, certain Medicaid recipients in Dutchess County will be required to enroll in a MLTCP.
"I don't think people know that a lot of these in-home care options are available," said Mrs. Helms. "I sure didn't. I'm so happy now. I even suggested Elant Choice to a friend."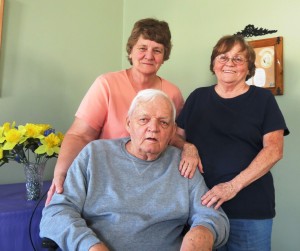 Helms' care is managed through one of Elant Choice's RN care managers, Susan Satterly, who arranges all aspects of his care. During the weekdays, he is picked up by ambulette and taken to Elant at Goshen for its Social Day program, which is covered by Elant Choice. While there, he receives occupational therapy and physical therapy, participates in activities and games, visits and socializes with friends in the program. Satterly also schedules his doctors' visits and arranges a personal care aide to visit who helps Mr. Helms with basic personal care needs.
"Anytime I have a problem, I just call Elant Choice," said Mrs. Helms. For example, she needed Mr. Helms to have a chair for the shower. She called Elant Choice and a care manager arranged for the purchase and delivery.
"We encourage families to call whenever they need something and we are available to speak to them 24/7," said Satterly. "We have on-call personnel to assist them with whatever they need."
Through its network of trusted providers, Elant Choice offers an array of covered health and long-term care services, including visiting nurses and home health aides; physical, occupational and speech therapy; social work services; dental, vision, podiatry and audiology services; non-emergency medical transportation and more.
"If it wasn't for Elant Choice, my husband wouldn't be home and he has been home since Dec. 2," said Mrs. Helms. "I'm not saying he won't be in a nursing home again, but this program keeps him home as long as possible."
The Social Day program, Mrs. Helms said, is now a favorite of Mr. Helms because he has the opportunity to meet up and play games with his friends every day.
Elant is planning to expand the program at Elant at Goshen; it is receiving an increasing demand for social day services as the number of individuals joining a Managed Long-Term Care Plan grows.
"Mrs. Helms needed assistance at home and didn't know where to turn," said Satterly. "Elant Choice makes home assistance possible. We are committed to upholding the highest level of ethics and integrity. We focus on the core value of caring for our patients, our community and each other. We promote well-being in our community by providing education in wellness and disease prevention, and illness management. Our employees are committed to excellence."
"Every day I can say, 'At least he had another day at home,'" said Mrs. Helms, who has been married for nearly 41 years. "As long as he's happy that's all that matters."
To learn more about Elant Choice, call 877-255-3678 or visit www.elantchoice.org
ABOUT ELANT:
Elant is a comprehensive health care system that serves the needs of more than 3,500 individuals throughout the Hudson Valley region. The organization includes six campuses and employs more than 1,200 dedicated individuals. Elant provides a full continuum of care, including Sub-Acute Care and Rehabilitation Services, Nursing Home Care, Assisted Living, Adult Day Care, Retirement Community Living, Home Health Care and a Managed Long Term Care Plan. To learn more, visit www.elant.org.