POUGHKEEPSIE, N.Y. (Nov. 27, 2017) — Domenico Lepore of the Town of Poughkeepsie has been promoted to sales manager at LCS Facility Group, the region's most experienced and largest provider of facilities solutions.
Lepore joined LCS in 2011 as a building cleaner, and was quickly promoted to the cleaning project team as a project cleaning technician, a more extensive and diverse position. In this role, Lepore deepened his scope of knowledge and personal skill sets in LCS' practices and procedures.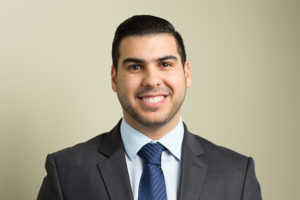 "I'm proud to be a part of my family's business," said Lepore. "When I first started, it was important to me and my father that I learn this business from the perspective of the valuable people who do the onsite work every day. I have great respect for their talent and expertise. It's their work which makes LCS shine every day."
In 2014, Lepore was promoted to operations coordinator. In this role he facilitated the scheduling of projects and assisted in the development of start-up cleaning contract services for all LCS sites. Additionally, he developed his communication, management, finance, customer service and employee-relations skills while gaining a broad knowledge of the operational practices of LCS.
In 2016, Lepore assumed the role of manager within the contract cleaning area of the company where he continued to apply his skills in operations management.
Now, as part of LCS' sales and business development team, Lepore will use his strong knowledge of the facilities management business into customer-focused solutions.
"Domenico's strong customer service orientation and unique ability to assess and identify the LCS services and products to meet our customers' needs makes him a knowledgeable outsourcing partner," said LCS Facility Group owner Joe Lepore. "Domenico started from the ground up, understands all facets of our business and his daily interaction with our customers will reinforce how much LCS values every single client we have."
About LCS
As the preferred outsourcing partner, LCS Facility Group is an industry leader in providing the highest quality expertise, professional and full-service facilities maintenance, and specialty services to the commercial sector. LCS Facility Group's services include cleaning and facility maintenance; landscaping and property maintenance; snow and ice removal; hospitality and stewarding services; specialty services and more. For additional information, visit: http://www.lcsfacilitygroup.com