MOUNT VERNON, N.Y. (September 11, 2017) — Mount Vernon City School District's Director of Student Services, Felicia Gaon, was nominated for Special Education Administrator of the year by the New York Council of Administrators of Special Education (NYCASE). She was honored in Saratoga recently at the organization's Summer Institute.
Gaon was nominated by Mount Vernon City School District Superintendent Dr. Kenneth R. Hamilton She was among a select pool of highly qualified and highly regarded Special Education administrators from across New York State who were nominated for this prestigious career achievement award.
"Ms. Gaon engages with other departments and administrative leadership to create a cross-collaborative environment for educational excellence," said Superintendent Dr. Kenneth Hamilton. "Her conscientious work and diligence has greatly benefitted the special needs students in our district."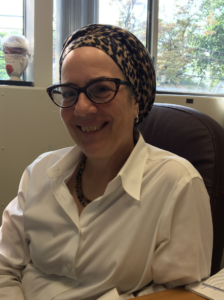 "I am honored to have been nominated for this award for work that I find so fulfilling," said Gaon. "Working to provide the best education possible for students with disabilities is my passion, and I'm fortunate to have the support of outstanding teachers and administrators in the Mount Vernon City School District."
Gaon began her career in Nassau BOCES as a School Counselor for alternative and special education programs where she worked for 18 years. She moved into an administrative position as the Supervisor of Pupil Personnel Services in the Lawrence Union Free School District. From there, she became the Chief District Administrator for Special Education and Pupil Personnel Services in the North Babylon Union Free School District. She also worked for Rockland BOCES as an Assistant Principal in the Jesse Kaplan School. Ms. Gaon has a Bachelor of Science degree in Communication Studies and a Master of Arts in Guidance and Counseling, both from New York University. She has a Master of Arts Degree in School Psychology from Touro College, a Professional Diploma in Administration and Supervision from Queens College and is ABD and completing her dissertation at Manhattanville College.
Gaon lives in Queens with her husband and children. She is an avid reader and in her free time, enjoys hiking and nature walks.
About Mount Vernon City School District
With more than 8,000 students in 16 schools, the Mount Vernon City School District is committed to providing a quality education to its children as well as developing programs that meet the diverse academic and social needs of its students.
About NYCASE
NYCASE is a statewide professional organization of special education administrators dedicated to advocacy on policy issues that benefit students with disabilities and their families and providing professional development and networking for its members. NYCASE is affiliated with the National Council of Administrators of Special Education.