Monticello, N.Y. (March 6, 2015) – Combined Energy Services (CES), a local, family-owned regional energy supplier, recently donated $1,000 worth of heating oil to the Pike County Humane Society (PCHS) in Shohola, Pa.
"CES is proud to contribute to one of Pike County's premier nonprofits," said Mike Taylor, co-owner at Combined Energy Services. "The Pike County Humane Society cares for countless homeless pets each year – providing shelter, food, medical treatment and more, and they operate largely on donations. Since the merger of A-1 Heating of Milford, Pa., we've expanded our footprint to offer fuel oil, propane gas and kerosene to our customers throughout Pike County, and we're happy to provide some of that heating oil for the benefit of the shelter animals."
CES is a regular contributor to community organizations in need. Just last year, CES donated a service van to PCHS, which is now used for running shelter errands and moving supplies.
Taylor added, "During the winter months, we know that heating expenses can get to be very costly, and as a local, family-owned business, we felt it was important to help this crucial organization during their time of need."
PCHS is a non-profit, non-kill shelter serving Eastern Pennsylvania. The PCHS volunteers, coordinated by executive director, Barry Heim, work hard to find 'forever homes' and stop animal cruelty.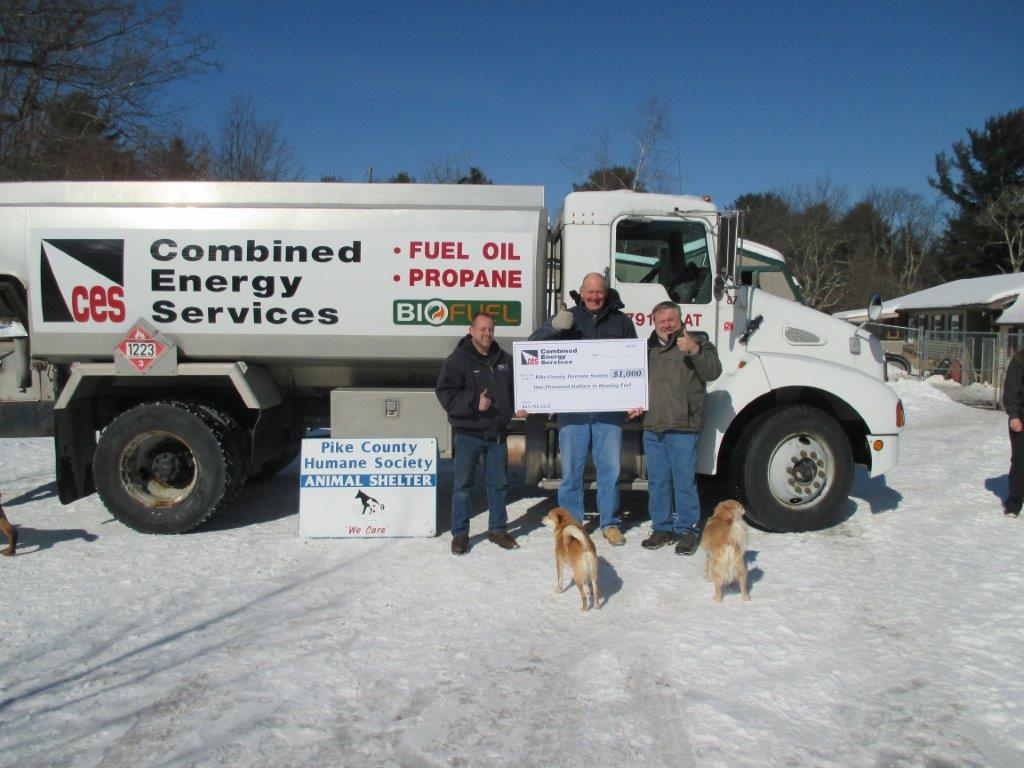 Photo: From left to right: Chris Roberts, Dingmans Ferry Manager, CES; Jim Sisco, Pike County
Sales Manager, CES; Barry Heim, Executive Director, Pike County Humane Society.
About Combined Energy Services:
Family-owned and operated since 1968, Combined Energy Services is one of the largest propane gas and fuel oil suppliers in the Hudson Valley. With four offices in operation, CES has provided customers throughout the Catskills, Hudson Valley, Eastern Pennsylvania and Northern New Jersey with propane gas, fuel oil and kerosene deliveries, as well as 24-hour repair service. To learn more, visit: www.CombinedEnergyServices.com and "like" its Facebook page.