April 7, 2014 – Monticello, N.Y. – Combined Energy Services (CES), a regional energy supplier, continues to help the Sullivan County Society for the Prevention of Cruelty to Animals (SPCA) keep its tenants – homeless pooches and felines – protected and warm during the toughest winter months of the year with its annual heating fuel donation.
In March, CES, which currently provides propane gas at the Rock Hill-based facility, presented Debbie Dittert and Dana Hawk-Heimbach, the manager and the president of the Sullivan SPCA, respectively, with a $2,500 propane gas credit to provide some relief during the coldest months of the year. Throughout the winter months, the SPCA struggles to heat its kennel at 104 Rock Hill Drive due to lack of proper insulation in the aging cinderblock building.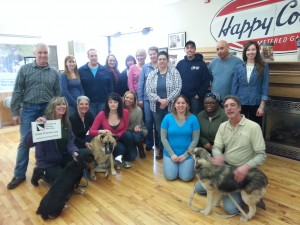 Mike Taylor, co-owner of Combined Energy Services, said, "The SPCA plays a great role in keeping homeless animals here in Sullivan County safe year-round. As a local business, it is our obligation to assist area nonprofit organizations and we're proud to help the SPCA achieve its goals and carry out its mission."
In addition to the yearly donation, CES also donated a cargo van to the organization this past fall that is being utilized to aid veterinary efforts, as well as rescue efforts in collaboration with the North Shore Animal League. The company also provides funding through its yearly "Fill Up for Furries" campaign each spring.
This past winter, the Sullivan SPCA began the tedious process of updating its insulation. The cinderblock construction is porous and poses a great challenge to providing a warm environment for its little tenants. The organization is currently looking to build what is referred to as an isolation room – one specifically designed for animals that are ill to prevent the spread of sickness throughout the facility.
Hawk-Heimbach added, "Year after year, we struggle through the winter and this has certainly been a tough one. The generosity of businesses like Combined Energy Services helps us provide a comfortable environment for these animals and keep our building free of hazards that could have doomed us in the future. These animals simply deserve what every other pet has – a safe and healthy home."
To make a donation to the Sullivan County SPCA, please click here or visit www.sullivanspca.com. Parties interested in volunteering at the SPCA can call 845-796-3120. Residents who shop at Liberty Agway may also make a donation to the nonprofit's account there, which Agway will partially match.
Taylor added, "CES is extremely dedicated to the nonprofit community in Sullivan County. Through our yearly donations to fire departments, healthcare facilities and other not-for-profits, we're helping to build a better Sullivan County."
Family owned and operated since 1968, Combined Energy Services is one of the largest propane gas and fuel oil suppliers in the Hudson Valley. With three offices in operation, CES has provided customers throughout the Catskills, Hudson Valley, Eastern Pennsylvania and Northern New Jersey with dependable propane gas, fuel oil and kerosene deliveries, as well as unmatched, around-the-clock repair service. For more info, please visit www.combinedenergyservices.com and become a fan on Facebook.