Funds will bring high school one step closer to a new track.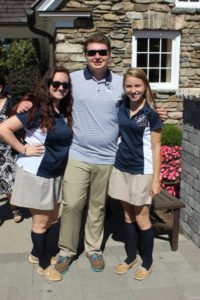 Goshen, N.Y. (September 26, 2017) – One hundred and forty golfers took part in Burke Catholic's golf outing at the Golf Club at Mansion Ridge in Monroe on Friday. Alumni, faculty, administrators, parents and community members all came out to enjoy a round of golf and the reception that followed. The event raised $20,000 for capital improvements at Orange County's only Catholic high school. This year, Burke Catholic is renovating its track, and this latest effort brings the school one step closer to the finish line.
"We are extremely grateful to the golfers as well as the volunteers and sponsors who supported this important fundraiser," said Burke Catholic Principal of Operations John Douthit. "We are in the final phase of planning for a new track that will benefit every student in our school."
The proceeds from the golf outing bring the track fundraising campaign to $170,000, just $25,000 shy of its goal of $195,000. Douthit says the school hopes to begin phase one of the project on November 1 and complete the new track by spring of 2018.
"I'm confident that the community will continue to generously support this capital project so Burke Catholic can take this project to completion and give students a track they can be proud of!" Douthit added.
To learn more about John S. Burke Catholic High School, visit www.BurkeCatholic.com.