Goshen, N.Y. (Dec. 12, 2017) – All eight John S. Burke Catholic High School Fall Sport Varsity teams have earned the coveted NYSPHSAA Scholar-Athlete Team Award, making it a banner season for the Orange County high school.
The teams recognized by the New York State Public High School Athletic Association award are: Girls and Boys Cross-Country, Boys and Girls Soccer, Football, Girls Swimming, Girls Tennis and Girls Volleyball.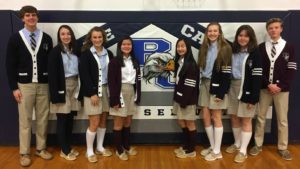 In order to earn this honor, at least 75 percent of each team's roster had to earn an overall GPA of 90 percent or more. To recognize the achievement, Burke Catholic will award scholar-athlete pins to individual students who achieved a GPA of more than 90 percent.
Members of Football Cheerleading, a club, are being recognized internally for also attaining this high academic standard.
The following students achieved the highest GPAs within their individual fall varsity teams:
Boys Soccer – Jeremy Maas – 96.2 percent
Girls Soccer – Amy Kyle – 96.73 percent
Football – Cory Lee – 96.84 percent
Girls Tennis – Lauren Staiger – 98.26 percent
Boys Cross-Country- John Zick – 97.18 percent
Girls Cross-Country – Julianna Gezstesi 99.7 percent
Volleyball- Jen Lawless – 100.9 percent
Girls Swimming- Kristina Ferrara – 99.44 percent
Cheerleading (non NYSPHSAA team) – Mackenzie Weidel – 99.72 percent
The total number of students on each team achieving a GPA of 90 percent or higher include:
Football – 15
Boys Soccer – 14
Girls Soccer – 9
Girls Tennis – 13
Boys Cross-Country – 7
Girls Cross-Country – 14
Volleyball – 5
Girls Swimming – 6
Cheerleading- 6
To learn more about John S. Burke Catholic High School, visit www.BurkeCatholic.com.