Officials also announce a new 25,000 sq. ft. expansion at Washingtonville location
WASHINGTONVILLE, N.Y.  — Aurochemicals, the internationally recognized manufacturer of natural aroma ingredients for the flavor and fragrance industry, dedicated its new $1.5 million expansion at a ribbon cutting ceremony on Sept. 21, increasing the total size of its world headquarters to 32,000 sq. ft.
Aurochemicals' expansion was a one-year project, allowing the company to have increased space for research and development and quality control work in addition to more space for state-of-the-art corporate offices, inventory maintenance and production.
"This expansion is due to Aurochemicals' tremendous growth and increased market share globally," said Deo Persaud, Aurochemicals CEO. "We're thrilled to call Washingtonville and Orange County our home."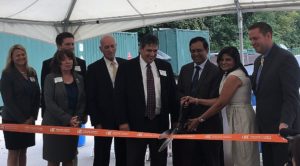 Aurochemicals' growth continues beyond the new expansion dedicated on Sept. 21. During the ribbon cutting, officials announced an additional 25,000 sq. ft. expansion at its Washingtonville location, planned for 2018.  An additional 7 jobs are expected to be created.
"The flavor and fragrance industry continues to grow, and we have become a major player in the industry," Persaud said. "The new space we dedicated today and the new expansion we are also announcing reaffirms our position in the marketplace."
Also attending the ribbon cutting were New York State Assemblyman James Skoufis, Orange County Executive Steve Neuhaus, Village of Washingtonville Mayor Joseph Bucco, Orange County Chamber of Commerce President Lynn Cione and Orange County Partnership President Maureen Halahan.
"Aurochemicals' expansion reinforces that Orange County is a great place to do business and we're proud that Aurochemicals' world headquarters is based here," said Orange County Executive Steve Neuhaus. "To know that Aurochemicals is also announcing an additional expansion here tells us that Deo Persaud and his team are not just leaders in the flavor and fragrance industry. They understand the importance of economic development in Orange County through facility expansion and jobs creation."
About Aurochemicals
Aurochemicals, established in 1994, is a leading manufacturer of natural aroma chemicals for the flavor and fragrance industry worldwide. With a focus on research, development, product availability, turnaround time and quality control it is Safe Quality Food (SQF) certified. The company, which began in Brooklyn, recently completed a building expansion and occupies 32,000 sq. ft. modern facility in Washingtonville, N.Y., with extensive production and storage capabilities. For more information or a current list of available products visit www.aurochemicals.com