Bank to donate nearly $21,000 to local causes throughout the holiday season
MONTGOMERY, N.Y. (December 18, 2017) – In the midst of the holiday season, Walden Savings Bank is proud to kick off its first annual "22 Days of Giving" campaign to give back to the people and organizations who make a difference in the Hudson Valley. Throughout the duration of the campaign, the Bank will donate nearly $21,000 to local causes.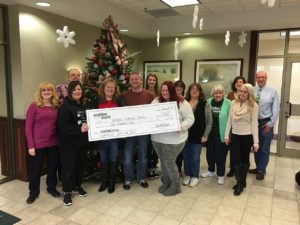 Throughout the year, Walden Savings Bank supports the community through sponsorships, donations and a robust Community Service Program, which provides employee volunteers to community organizations. The "22 Days of Giving" campaign, which was the brainchild of Walden Saving Bank employee Zachary Peterson, was established to complement year-round giving throughout the holiday season.
Walden Savings Bank employees make a monthly contribution for the opportunity to dress casually each Friday. These donations, along with a contribution by the Bank, have been distributed to each of the Bank's departments, who then identified a worthwhile cause to support. On each of the 22 days, the Bank will spotlight one of its 22 departments or branches on social media, using the hashtag #WSBGives, to share why they selected the individual or organization of their choice.
"Coming together to lend a helping hand to our neighbors in need is what our Bank is all about," said Derrik R. Wynkoop, President and CEO of Walden Savings Bank. "Our region is home to so many important causes, and we are proud to be able to give back even more this year to support the great work being done. I am excited to empower our employees to support causes that are meaningful to them."
In addition to local individuals and families in need, organizations to benefit include:
-Country Kids Food Pantry
-Florida Community Food Pantry
-Hudson Valley SPCA
-Middletown Humane Society
-Multiple Sclerosis Society
-Orange County K-9 Association
-Safe Homes of Orange County
-Sparrow's Nest
-The Humane Society of Walden
-The Shane Edward Tanzosh ARVC Heart Foundation, Inc.
-The Washbourne House
-Times Herald-Record's People for People Fund
-Zylofone
For more information regarding Walden Savings Bank's "22 Days of Giving" Campaign, and to learn more about why each organization was selected, visit www.waldensavings.bank/WSBGives or follow Walden Savings Bank on social media.
About Walden Savings Bank
Walden Savings Bank, established in 1872, is the 11th oldest federally chartered mutual savings bank headquartered in Montgomery, New York. With a total of 11 full-service branches serving Orange and Ulster Counties, the Bank's progressive style of community banking provides products that cater to both the individual and the growing mid-size business. In addition, Walden Investment Services, located at Walden Savings Bank, offers personalized advice for financial planning. To learn more about the Bank and its products and services, visit their website at www.waldensavings.bank