Approximately 250 construction workers were recognized for their commitment to safety
MONTICELLO, N.Y. (May 15, 2018) – Construction crews at The Kartrite Hotel & Indoor Waterpark, the latest project from the creators of Camelback Resort, recognize the importance of safety. In honor of National Safety Week, on-site demonstrations by vendors were organized to stress the impact of safe choices­ – big and small – that extend beyond the job site. Suffolk Construction offered a sit-down barbeque on Thursday, May 10, 2018 for employees at The Kartrite site who recommitted to safe work practices. The approximately 250 regional construction workers who are actively working towards the 2019 opening were recognized at the event.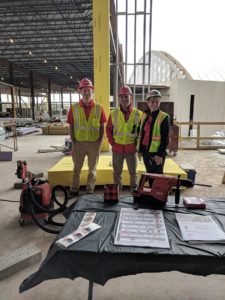 Organized by the Construction Industry Safety (CISI) group and the Incident and Injury Free CEO (IIF) Forum, the week of May 7 – 11, 2018 is recognized as National Safety Week in the construction industry. During this week, construction companies take time to thank their employees for their commitment to safety and host training activities and on-site demonstrations to educate, inspire and share best practices. Contractors also invite specialty vendors to demonstrate their products and wares which encompass the latest and greatest safety innovations available for construction personnel.
"Taking time to recognize the men and women that are working diligently to create a safe, fun and one-of-a-kind hotel and waterpark is important on numerous levels," said Ame Cameron, VP of Sales & Marketing at Camelback Resort. "Every day, our crews arrive on-site and exercise safe building practices to bring The Kartrite vision to life. These practices exist to protect both the construction workers and our future guests."
As members of the crews queued for the lunch prepared for them by Suffolk Construction, they signed a banner that read, "Safer Together. I work safely for my family, friends and self. I stop work to prevent incidents to anyone. I do not take shortcuts. I am open-minded when presented with safer options." The banner served as pledge to demonstrate safe practices on the job.
Hilti, United Rentals and Colony Hardware were the specialty vendors invited on-site at The Kartrite.
Representatives of Hilti, a multinational power tool developer, educated members of The Kartrite construction crews with information on a new Occupational Safety and Health Administration (OSHA) law that requires employers to take steps to protect workers from exposure to respirable crystalline silica. Crystalline silica is a common mineral found in construction materials such as sand, stone, concrete, brick and mortar. Workers who are exposed to respirable crystalline silica dust are at increased risk of developing serious diseases, including silicosis, an incurable and sometimes deadly lung disease, as well as lung cancer, chronic obstructive pulmonary disease and kidney disease. Hilti has introduced a line of dust control products to help protect workers from the harmful effects of crystalline silicosis, some of which were demonstrated on-site at The Kartrite.
United Rentals provided members of the construction crews with demonstrations of their Articulating Boom Lift product, a self-propelled unit that can reach working heights as high as 185 feet. According to United Rentals, an estimated 26 lift-related deaths occur each year and all of them can be preventable when operators and riders take the necessary precautions.
Camelback Resort has set a precedent with its commitment to safety. Earlier this year, Aquatopia Indoor Waterpark received the "Platinum International Aquatic Safety Award" from Jeff Ellis & Associates, Inc International Aquatic Safety and Risk Management Consultants. This prestigious honor is awarded to aquatic facilities that epitomize safety excellence and exceed industry standards in risk management. The same demonstration of safe practices can be expected of its sister property, The Kartrite, upon its opening.
Built in the midst of 1,600 acres of wilderness in the Catskill Mountains, The Kartrite Hotel & Indoor Waterpark will feature attractions for all ages including: innovative waterslides, surf simulator, wave pool with LED movie screen, lazy river, kid's activity pool and multi-level play & slide zone. Guests can also create a personal oasis in a deluxe cabana rental or refuel with a visit to the bar and grill. This new world-class hotel, The Kartrite also features 324 exquisitely designed guest suites, innovative bars and restaurants, spa, ropes course and arcade.
For more information, visit thekartrite.com
About The Kartrite Hotel & Indoor Waterpark
Set to open in early 2019, The Kartrite Hotel & Indoor Waterpark is the latest creation of Ken Ellis and Arthur Berry III, co-owners of America's #1 adventure resort, Camelback Resort. The Kartrite Hotel & Indoor Waterpark will feature a two-acre, four season waterpark and a stylish hotel with 324 guest suites. Building upon the family-focused thrills and amenities that have made Camelback Resort & Aquatopia a premier destination in the Poconos, the new indoor waterpark and hotel will be perfectly situated to serve adventure-seekers from the New York metropolitan area and beyond. Inspired by the beauty of its Catskill locale with a nod to the region's historic past, the cheeky, contemporary design of the hotel and indoor waterpark will set the bar for both innovative architecture and family-friendly adventure at every turn. For more information, visit thekartrite.com
About Camelback Resort
Camelback Resort continues to reinvent itself since opening in 1963 with 14 trails and three lifts serving 41,656 skiers. Today, Camelback serves more than 1.7 million outdoor enthusiasts and visitors annually with 37 trails, 16 lifts, 100 percent snowmaking, the largest snow tubing park in the U.S. with an out-of-this-world "Galactic" light experience, Camelback Mountain Adventures (featuring the only mountain coaster in Pennsylvania and North America's longest twin 4,000-foot Zip-Flyers), Camelbeach Waterpark (the largest waterpark in Pennsylvania) and Camelback Lodge & Aquatopia Indoor Waterpark. For more information, visit www.camelbackresort.com
About Aquatic Development Group (ADG)
Aquatic Development Group (ADG) designs and builds water parks and recreational water and mountainside attractions for all types of venues from amusement parks and resorts, to ski mountains and small aquatic settings. They are the leading expert in creating recreational environments that are designed to attract diverse crowds, increase guest satisfaction, and maximize revenue. ADG has installed more than 90% of all wave systems in the U.S. with their patented WaveTekTM technology and has provided design/build and equipment services to more than 4,000 public, scholastic, resort and amusement facilities worldwide. They have won numerous IAPPA Brass Ring and WWA Leading Edge Awards for their innovative water parks and water ride attractions.  For more information, visit www.aquaticgroup.com