A unique feature of New York State's soon-to-be largest indoor waterpark is complete.
MONTICELLO, N.Y. (May 21, 2018) – The Kartrite Hotel and Indoor Waterpark, the latest project from the creators of Camelback Resort, recently celebrated a major construction milestone with the completion of its Texlon roof. The two-acre vegetation-rich indoor waterpark is slated to open in early 2019 on the Resorts World Catskills property.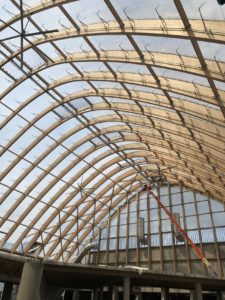 Inspired by the architecture of indoor waterparks in Europe, the Kartrite's unobstructed column-free construction features a barrel-shaped transparent Texlon roof that will bathe visitors in natural sunlight and provide the ideal conditions for lush gardens. The energy efficient, eco-friendly material also allows for natural tanning without exposure to the harmful effects of UV rays. Plus, its year-round temperature of 84 degrees Fahrenheit makes The Kartrite an aquatic paradise that families can enjoy all year long.
"Five years ago, we had a vision to create a different adventure with a stylish and relaxing place for families to experience a vacation designed with each of them in mind. So, to see special elements finalized, such as the Texlon roof, is a dream come true," said Ken Ellis, Co-Owner of The Kartrite Hotel & Indoor Waterpark and CEO of Aquatic Development Group, the award-winning firm contracted to design and build The Kartrite Hotel & Indoor Waterpark.
"Achieving this milestone was no easy feat," said Chris Hewison, Aquatic Development Group Project Executive. "To bring Ken's vision of The Kartrite to life, we needed to engineer massive, curved wooden pieces that join together to create the barrel-shaped roof. This unique architectural design creates the illusion of being outdoors, supplying natural light and promoting the growth of vegetation within the park."
Built in the midst of 1,600 acres of wilderness in the Catskill Mountains, The Kartrite Hotel & Indoor Waterpark will provide endless opportunities for discovery. The indoor waterpark design embraces the natural beauty of the region with dense greenery, while much of its Victorian-style aesthetic is inspired by the concept of adaptive reuse, repurposing old things to make them new again — a microcosm that reflects the Catskills.
"The Texlon roof is just one of the features that will set The Kartrite apart, both in terms of architectural standards and family fun as it is the crowning element protecting the largest indoor waterpark in NY state," said Ame Cameron, VP of Sales & Marketing at Camelback Resort. "The roof also allows us to embrace the beauty of the Catskills by bringing the outdoors in and immersing guests in a verdurous environment like no other indoor waterpark in the nation."
The Kartrite indoor waterpark features attractions for all ages including: innovative waterslides, surf simulator, wave pool with LED movie screen, lazy river, kid's activity pool and multi-level play & slide zone. Guests can also create a personal oasis in a deluxe cabana rental or refuel with a visit to the bar and grill.
A world-class hotel, The Kartrite also features 324 exquisitely designed guest suites, innovative bars and restaurants, spa, ropes course and arcade. Plus, neighboring adventures include rolling the dice at the Resorts World Casino Catskills and teeing off for a round of golf at the world-famous Monster Golf Course.
For more information, visit thekartrite.com.
About The Kartrite Hotel & Indoor Waterpark
Set to open in early 2019, The Kartrite Hotel & Indoor Waterpark is the latest creation of Ken Ellis and Arthur Berry III, co-owners of America's #1 adventure resort, Camelback Resort. The Kartrite Hotel & Indoor Waterpark will feature a two-acre, four season waterpark and a stylish hotel with 324 guest suites. Building upon the family-focused thrills and amenities that have made Camelback Resort & Aquatopia a premier destination in the Poconos, the new indoor waterpark and hotel will be perfectly situated to serve adventure-seekers from the New York metropolitan area and beyond. Inspired by the beauty of its Catskill locale with a nod to the region's historic past, the cheeky, contemporary design of the hotel and indoor waterpark will set the bar for both innovative architecture and family-friendly adventure at every turn. For more information, visit thekartrite.com.
About Camelback Resort
Camelback Resort continues to reinvent itself since opening in 1963 with 14 trails and three lifts serving 41,656 skiers. Today, Camelback serves more than 1.7 million outdoor enthusiasts and visitors annually with 37 trails, 16 lifts, 100 percent snowmaking, the largest snow tubing park in the U.S. with an out-of-this-world "Galactic" light experience, Camelback Mountain Adventures (featuring the only mountain coaster in Pennsylvania and North America's longest twin 4,000-foot Zip-Flyers), Camelbeach Waterpark (the largest waterpark in Pennsylvania) and Camelback Lodge & Aquatopia Indoor Waterpark. For more information, visit www.camelbackresort.com.
About Aquatic Development Group (ADG)
Aquatic Development Group (ADG) designs and builds water parks and recreational water and mountainside attractions for all types of venues from amusement parks and resorts, to ski mountains and small aquatic settings. They are the leading expert in creating recreational environments that are designed to attract diverse crowds, increase guest satisfaction, and maximize revenue. ADG has installed more than 90% of all wave systems in the U.S. with their patented WaveTekTM technology and has provided design/build and equipment services to more than 4,000 public, scholastic, resort and amusement facilities worldwide. They have won numerous IAPPA Brass Ring and WWA Leading Edge Awards for their innovative water parks and water ride attractions.  For more information, visit www.aquaticgroup.com.