Students presented with banner during special on-field ceremony at Yankee Stadium
GOSHEN, N.Y. (June 20, 2018) – Of all the small schools in the Hudson Valley, Burke Catholic had the highest percentage of students in its junior and senior classes donate blood at its spring blood drive. The outstanding effort of students and staff didn't go unnoticed.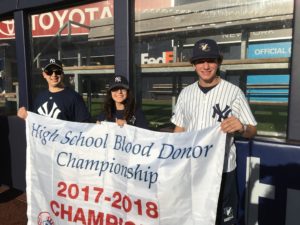 On June 14, World Blood Donor Day, representatives of Burke Catholic were recognized during a special on-field ceremony at Yankee Stadium. They accepted their school's championship banner prior to enjoying a Yankee Game with representatives of other schools from across the state.
"It was an honor to stand on the field where the Yankees play and represent the efforts of Burke Catholic," said Vincent D'Auria, who graduated from Burke Catholic this month and is headed to Marywood University in the fall. "Our school nurse, Mrs. Kish, has educated students at BC on the need for blood donors, and we were happy to do our part to save lives."
Burke Catholic holds two blood drives annually, one in the fall and one in the spring. But this year was special. The spring blood drive held in April honored Andrea Cushing who passed away last year at age 48. A beloved member of the Burke Catholic family, Cushing was the mother of two Burke Catholic graduates and one future student.
"The students were clearly inspired by Mrs. Cushing's generous spirit," said Burke Catholic nurse Kathleen Kish who has organized the Burke Catholic blood drives for years. "This year's spring blood drive was Burke Catholic's most successful one ever!"
Since 1996, The New York Yankees have teamed up with New York Blood Center (NYBC) to save lives in communities statewide through the New York Yankees High School Blood Donor Championship. More than 50,000 blood donations were made at high school blood drives sponsored by the New York Blood Center this school year.
Pictured (from left to right): Burke Catholic students Andrew Curtis, Cameron Gailie and Vincent D'Auria holding championship banner
For learn more about John S. Burke Catholic High School, visit www.BurkeCatholic.com.