Performances are planned for May 4-6 at Mount Vernon High School.
MOUNT VERNON, N.Y. (May 3, 2018) — Mount Vernon high school students will take the stage this weekend as the Arts at Mount Vernon present the musical adaptation of Alice Walker's 1982 novel "The Color Purple." The student performances are produced and directed by Evelyn Collins, Director of Arts and Gifted and Talented Education, and Director of the Performing and Visual Arts Magnet School under the musical direction of Alvin Waddles. Performances will take place on May 4-6, 2018 in the auditorium at Mount Vernon High School.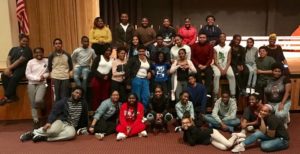 Showtimes are as follows:
-Friday, May 4 at 6:00 p.m.
-Saturday, May 5 at 6:00 p.m.
-Sunday, May 6 at 3:00 p.m.
The Arts at Mount Vernon includes 38 students from Thornton, Mount Vernon, and Mandela high schools, and students from the Performing and Visual Arts Magnet School.
"I am so proud of our students for the rigorous dedication and exceptional talent they have demonstrated as they've prepared for our upcoming performances," said Collins.  "I invite the community to come out and celebrate the talented young people in our District and enjoy an evening of beautiful showmanship."
From Alice Walker's Pulitzer Prize-winning bestseller and Steven Spielberg's Oscar-nominated film comes a stage musical with a fresh, joyous score of jazz, ragtime, gospel, and blues. This story follows the inspirational Celie as she journeys from childhood through joy and despair, anguish and hope, to discover the power of love and life.
Tickets are available for this weekend's shows and can be purchased online here.
About Mount Vernon City School District
With more than 8,000 students in 16 schools, the Mount Vernon City School District is committed to providing a quality education to its children as well as developing programs that meet the diverse academic and social needs of its students.
Picture features high school students from the Arts at Mount Vernon's production of "The Color Purple."