The District's Director of Technology honored at LHRIC awards ceremony
MOUNT VERNON, N.Y. (March 30, 2018) – Joseph McGrath, Director of Technology for the Mount Vernon City School District, was honored with a TELL (Transforming Education through Leadership & Learning) Award on Thursday. The TELL Awards were presented by the Lower Hudson Valley Regional Information Center's (LHRIC) at the Edith Macy Center in Briarcliff Manor, N.Y.
Formerly known as the Pioneer Awards, the well-respected accolades recognize outstanding teachers and administrators in the region who go out of their way to advance student success through their innovative use of technology. This is the first year a member of the Mount Vernon City School District staff has been honored at the TELL Awards.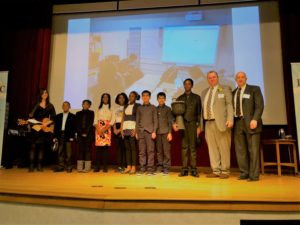 "Joe's leadership, knowledge and dedication has helped transform student learning in the District," Dr. Kenneth R. Hamilton, Mount Vernon City School District Superintendent of Schools. "It is because of his guidance that our students are immersed in a technology-rich educational environment that equips them with the tools and resources they need to succeed."
Under McGrath's leadership, the Mount Vernon City School District provides outstanding technical support to its students, faculty and staff. The District maintains more than 3,500 laptops and wireless devices and completes approximately 80 percent of service tickets the day they're submitted. Every educational space throughout the District has a learning management system that is overseen by McGrath.
McGrath has help introduce programs that benefit students outside of the classroom, such as Sprint's 1Million Project. Through the 1Million Project, high school students throughout the Mount Vernon City School District may be eligible to receive a free wireless device equipped with 3GB of LTE data, as well as a calling and texting plan, for free each month until graduation.
"In four years, the District has gone from having very little technology to a place where technology is integrated into its culture," said McGrath. "This transformation would not have been possible without the support of and empowerment by Dr. Hamilton and Dr. Gordon."
McGrath was one of two technology directors in Westchester County to receive a TELL Award for Outstanding Innovative Leader. A total of six educators, selected from more than 50 school districts in the region, were recognized at this year's LHRIC Technology Leadership Institute's Celebration of Teaching and Learning.
About the Mount Vernon City School District
With more than 8,000 students in 16 schools, the Mount Vernon City School District is committed to providing a quality education to its children as well as developing programs that meet the diverse academic and social needs of its students.