MOUNT VERNON, N.Y. (Jan. 29, 2018) — Students in the Mount Vernon City School District's Performing Arts and Magnet School captivated audiences with four performances of The Lion King Jr. at Mount Vernon High School this past weekend.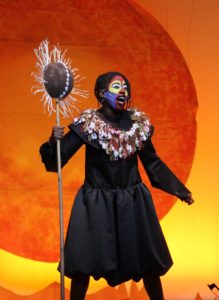 Over 1,000 people from throughout the greater Mount Vernon community attended the performances, reaffirming the importance of arts in education.
The play, produced and directed by Evelyn Collins, followed the adventures of the young lion Simba, the heir of his father, Mufasa. Simba's wicked uncle, Scar, plotted to seize Mufasa's throne by luring father and son into a stampede of wildebeests. But Simba escaped, and only Mufasa is killed. Simba returned as an adult to take back his homeland from Scar with the help of his friends, Timon and Pumbaa.
But, it was more than that.
Through song and dance, audiences watched as the play's characters battled between darkness and light; struggled for purpose and direction; discovered courage and humility; found one's place in life; and learned the meaning of leadership and sacrifice.
The Performing and Visual Arts Magnet School was awarded a national grant to produce the show using the strengths and skill level of middle school students.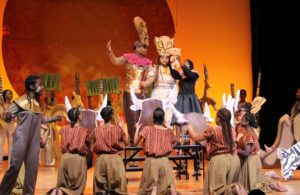 "This grant supported our efforts to present a stellar theatrical and musical production while providing our students with a holistic arts education experience that will help prepare them to be successful no matter what their future career paths," said Collins, the Performing and Visual Arts Magnet School's founder/director.  "The talent that we have in our community is amazing, and every student who had a part in this production must be commended for the months of preparation it took to make all of our shows so fantastic and memorable."
The Performing and Visual Arts Magnet School has 250 students in grades 6 through 9 from all Mount Vernon elementary, middle, private, Catholic and charter schools.
Upcoming auditions for enrollment in the school for the 2018-2019 school year are scheduled for Feb. 9 at 6 p.m. and Feb. 10 at 10 a.m. for students entering grades 6 through 10.
Pictures feature scenes from The Lion King Jr. captured during Friday's dress rehearsal.
About Mount Vernon City School District
With more than 8,000 students in 16 schools, the Mount Vernon City School District is committed to providing a quality education to its children as well as developing programs that meet the diverse academic and social needs of its students.