In the aftermath of the Parkland shooting and other incidents of discrimination and violence, Director of Arts & Gifted and Talented Education Evelyn Collins reflected on the impact of young people as activists and advocates for human rights. This reflection inspired "And the Children Shall Lead Them," a presentation that culminates three weeks of hard work by students in the Arts Magnet summer bridge program. Historic events, including apartheid and the civil rights movement, will be explored through music, dance, poetry and the visual arts.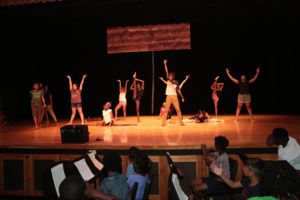 WHAT: "And the Children Shall Lead Them"
WHO: Presented by students in the Mount Vernon Performing and Visual Arts Magnet School Summer Bridge Program and directed by Evelyn Collins
WHEN: Friday, August 10, 2018, 6:00 p.m.
WHERE: Mount Vernon High School Auditorium, 100 California Road, Mount Vernon, N.Y.
***
About the Mount Vernon City School District
With more than 8,000 students in 16 schools, the Mount Vernon City School District is committed to providing a quality education to its children as well as developing programs that meet the diverse academic and social needs of its students.